– hopes air traffic controllers return
Prime Minister Samuel Hinds said yesterday that he did not believe government had reached the point of firing the striking aircraft traffic controllers, though Minister of Transport and Hydraulics Robeson Benn maintained that they would be sacked for not turning up.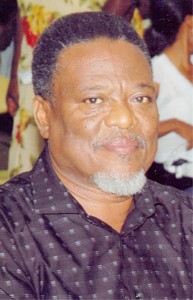 While not ruling out firing the workers for striking, action that is costing the country millions of dollars as the airport is now only opened during the day, Prime Minister Hinds stopped short of saying the workers would be let go.
Last night the airport was closed again since only daylight flights can be monitored at present.
However, Hinds in an address at the Caricom Secretariat referred to the 1981 action by US President Ronald Reagan, who had fired over 11,000 air traffic controllers who went on strike, stating, it is "certainly something that all of us should keep on the table before us."
Reagan had given the workers 48 hours to return to work, knowing that the government had secretly trained air traffic controllers to replace them, and when most of them failed to do so he fired them and even banned them from federal service for three years but later rescinded the latter order. The Professional Air Traffic Controllers Organization (PACTO) which had called out the workers on strike was decertified that same year.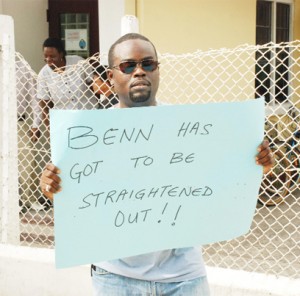 Asked when the workers were likely to be fired, Prime Minister Hinds said: "I would say I don't think we have reached the occasion. I am still hoping that the air traffic controllers would see that their action more or less is amounting to blackmail of the society and I hope that the society seeks to have them change their ways."
However, Benn, who also spoke to reporters yesterday, maintained that the workers would be fired. Though he did not say when their dismissal letters would be prepared. He said that soon advertisements would be placed in the newspapers for air traffic controllers and he hoped that in a month's time the airport would resume 24-hour operation.
"Up to now we are still of the view that those who have been misled… should resume work," Benn stressed while maintaining that there was no money to pay the workers and as such there would be no payout.
Audience
Meanwhile, the workers yesterday maintained that they would not return to work and hope to have an audience with President Bharrat Jagdeo, who returns to the country today.
The workers yesterday picketed Benn's office and the Caricom Secretariat, where the launching of the Caribbean Aviation Safety and Security Oversight System (CASSOS) was held, to show their dissatisfaction with Benn's action who they claim has been the "main obstacle" to them receiving their monies. They said they are prepared to go back to work but they need the monies paid to them. They said too that the public needs to understand that they did all they could have done before going on strike.
General Manager of Caribbean Airlines, South America, Carlton DeFour told Stabroek News that the airline is suffering some financial setbacks as a result of the airport being closed since two flights a night were being cancelled and they are forced to find accommodation and food for their passengers. Further, DeFour said because of the cancellations the airline was also forced to delay the departure of flights and this has cost them. He said the airline has cancelled its night flights up to tomorrow with the hope that by then a resolution would be reached and the airport would recommence night operations. He said the cancellations have inconvenienced passengers who are forced to wait some eight hours in Trinidad.
Yesterday Hinds would not say whether he had been approached by the Guyana Public Service Union (GPSU) on the issue but said if he were, he would give them the same message that "they need to be consistent, we can't on the one hand be calling for even more pay for a group that is already is being paid two to three times what their comparable people are being paid in the core public service and in the security service…"
Even more than that, Hinds said when meetings were being held on the rainfall and floods the meteorology employees, who are in the same tower, are agitating because they are being paid much less than the air traffic controllers
The Guyana Association of Air Traffic Control Officers (GAATCO), in a statement had said that the issue of salaries dates back to 2002 when it was made a semi-autonomous agency under conditions "no less favourable" than those previously enjoyed. As a result, if salary increases were issued annually, they should continue at the same rate, the association charged.
Support
Meanwhile, the Guyana Trades Union Congress (GTUC) said yesterday that it considered the ultimatum statement by Benn irresponsible and provocative and demanded a withdrawal of it. The union movement said it was in solidarity with the workers in "their just and valiant struggle". The movement called on workers to be in a state of readiness and to take appropriate action if Benn were to put his threat into effect.
On Tuesday Benn described the strike as "illegal" since the workers are contracted workers and there is no agreement between the GCAA and any union with respect to representation. "We therefore view the circumstances in which we are and the way in which it was done that we have a situation where workers have walked off the job…" the minister had said.
But GPSU President, Patrick Yarde, dismissed Benn's threat to fire the workers and stated that there was no question of them being fired since there were more enlightened people within the government "who will deal with this matter in a more responsible manner."
"Benn is not the leader of this government," Yarde had stressed and had added that he hoped when President Jagdeo returns to Guyana today there would be sanity in dealing with this matter."
The union had also called on its members to be in a state of "readiness" to take industrial action in support of the striking workers.
On Tuesday Benn had said that the government "bent over backward" and sequestered $660 million to procure and install urgently needed equipment which includes distance measuring equipment and a high frequency radio among others. He said the cost of the equipment was $780 million and the GCAA has to transfer from its surplus monies as its contribution towards purchasing the equipment. The minister had pointed out that the GCAA relies on a government subvention to get its work done.
However GAATCO said government had taken a US$30 million loan to reform the aviation sector and this money, according to its interpretation of the technical report issued in August 2000 by the International Services UK, should have been used during the first five years of operation to replace all the navigational aids and equipment. Seven years down the line this has still not been done and GAATCO is questioning where the money went.
Workers are arguing that they are owed retroactive overtime payment on salary scale adjustments, a 10 per cent increase in wages and salaries for last year and salary and leave advances.
Additionally, workers want management to address the issue of substantive appointments as well as maximum work hours per month for Air Navigation Services staff. The employees are also asking for better training for staff and duty-free concessions for senior staff members.
It was noted that Benn, who had stopped a payment the GCAA was prepared to give employees last year, had said that there was no money to pay them yet the employees are seeing "all kinds of unnecessary expenditure."
This includes landscaping around the CJIA tower, painting and even covering of floors. "These are being done especially at a time when you are telling employees that you have no money to give them," sources said.
Benn said the works are necessary to make the environment more work conducive.
Last year when there was no response to a letter written to the minister the employees wrote to President Jagdeo who instructed Head of the Presidential Secretariat, Dr Roger Luncheon to meet them. The sources said they had several meetings with Dr Luncheon but late last year they stopped hearing from him and a scheduled meeting did not materialise.
Around the Web