Almost five months after police issued a wanted bulletin for a 23-year-old man in connection with the discovery of high-powered arms and ammunition at a Regent Street house, he yesterday appeared in court after turning himself into the police.
Frank Ross, also called Frankie, a dredge operator of 136 Fifth Street Alberttown appeared before Acting Chief Magistrate Melissa Robertson to answer charges of unlawful possession of firearms without licence and unlawful possession of ammunition without licence.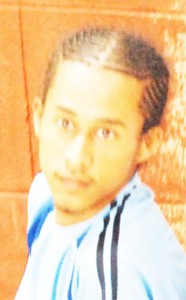 He pleaded not guilty to the charges.
Ross was subsequently remanded to prison until February 11 when he is to appear in court five of the Georgetown Magistrate's Court.
It is alleged that on September 24 last, Ross unlawfully had an AK-47 rifle, a pistol, a shotgun, 713 rounds of ammunition of various calibre, and 7 magazines for different firearms.
When Ross appeared in court he was without an attorney and was expressionless throughout the proceedings which lasted for about five minutes.
Towards the end of the hearing when the Magistrate asked if he wished to say anything else in his defence he responded "not guilty."
A senior police officer told Stabroek News yesterday that Ross turned himself over to the police on Monday in the company of attorney-at-law Mark Waldron.
It is unclear where the man was over the last few months but sources say that he may have been hiding out in the interior.
Ross was one of three men that the police had issued wanted bulletins for in connection with the hair-raising discovery by members of the joint services.
In the bulletins issued on September 26 investigators had said that they wanted Ross and the two men for questioning into allegations of the illegal importation of arms and ammunition.
The other two men turned up at CID headquarters on separate occasions accompanied by their lawyer and were subsequently released after being interviewed by investigators.
Three female occupants of the house were also arrested but were released on station bail before their 72 hours had ended.
In December Commis-sioner of Police Henry Greene had told Stabroek News that the Chambers of the Director of Public Prosecutions (DPP) has told the police that there is no evidence to charge any of the women, who are related to Ross. He had vowed then that investigators would not rest until the case has been solved.
The illegal items were discovered in a barrel that was among several being stored under the house. Subsequent ballistic tests conducted on the weapons showed that they were not used in the commission of any crimes here and as such there were suspicions that the weapons were newly smuggled into the country and were being temporarily stored at the house.
Investigators are yet to determine how and when the items arrived in the country and for what purpose.
Around the Web