A Festival City cosmetologist died yesterday morning after being stabbed on Saturday and her husband who is the suspect was hospitalized later in the day after taking a poisonous substance.
Latoya Conway Woolford, 29, of 2041 Humming Bird Street, Festival City, North Ruimveldt succumbed to a single stab wound just above her belly button early yesterday morning. Relatives said they received the devastating news at about 7 am from the Georgetown Public Hospital (GPHC).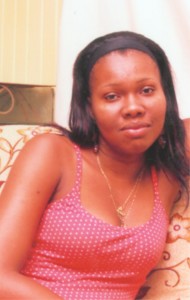 Reports are that Latoya and her 34-year-old husband, Charles Anthony Woolford, had argued after which the man stabbed her, took money from the house and left.
After hiding for several hours and threatening to commit suicide Charles apparently ingested a poisonous substance and was taken to the GPHC shortly after 3 pm yesterday where he remained guarded by police up to press time.
According to relatives, Latoya  was sitting in her bedroom combing her hair when Charles entered with a knife hidden behind his back, advanced, spun his wife around and plunged the knife in her "belly".
A relative said that the two were arguing because she wanted to go to the back of South (South Ruimveldt) to do her friend's nails.  The relative said that Charles went outside and got a knife and came back with it behind his back and then stabbed her.
After the stabbing the relative said that Charles ran outside with the knife and then came back in, grabbed all the money which Latoya had in the room and left.
Talia Rayside, a cousin of the deceased who lives in the upper flat of the Lot 2041 house, reported that at approximately 4.30 pm she heard the screams coming from the lower flat but had no time to investigate.
Latoya, she said, came staggering into her upper flat apartment clutching her stomach. The wounded woman, according to Rayside, was immediately rushed to a private hospital where she received emergency medical attention and then was transferred by ambulance to GPHC.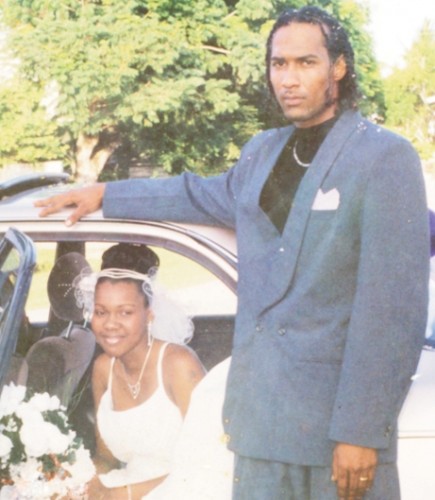 The distressed cousin explained that Latoya was attended to speedily at GPHC, spent two hours in the operating theatre and was then transferred to the Intensive Care Unit (ICU) where she later died. Rayside said that while they were in the car Latoya showed signs of being in a dire state.
Relatives further told Stabroek News that they believe Charles knew what he wanted to do because prior to stabbing his wife he had locked the gate and then the front door.
While Stabroek News was at the house yesterday afternoon Charles spoke to several relatives via telephone.
"Tony how you feel that you wife dead and you lef you three children here?" one relative asked, "You ain't feel nothing? Is best you tell we where you deh cause the police will find you eventually."
The couple, relatives explained, had been together for about one decade and had argued before to the point where the police were involved. Rayside, however, said that as far as she knew this was the first time physical violence had been used.
Latoya's parents are also deceased but her relatives insisted that they will take care of the children; Marcia, her 8-year-old sister, Macyann, and 3-year-old brother, Shemar.
The 29-year-old mother was a cosmetologist who often worked from home. She and Charles had only moved back to the Festival City address about one year ago, Rayside said.
Rayside further informed this newspaper that the police had visited the scene and were to return.
Latoya also leaves to mourn three brothers and several half sisters and brothers, and many other relatives.
One foster brother said that Latoya was planning to move out, to escape because she was trapped but when questioned about this the family refused to comment further. The latter part of 2008 saw an upsurge in domestic violence cases.
Around the Web