Latoya Conway Woolford, the Festival City beautician who was allegedly stabbed by her husband on Saturday afternoon and succumbed the following morning, died of kidney failure, relatives said.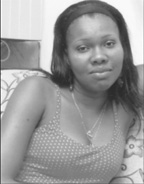 A Post Mortem Examination conducted on Woolford on Monday morning, according to relatives, revealed the cause of death as kidney failure due to multiple stab wounds.
Woolford, 29, of 2041 Humming Bird Street, Festival City North Ruimveldt succumbed to stab wounds just above her belly button early Sunday morning. Stabroek News had learnt that Latoya and her 34-year-old husband, Charles Anthony Woolford, had argued after which the man allegedly stabbed her, took money from the house and left.
Charles is presently under police guard at the Georgetown Public Hospital (GPH) where he was taken Sunday afternoon after he ingested a poisonous substance. The man had told Woolford's relatives that he would kill himself.
Stabroek News learnt from a senior police source that Charles' condition is deteriorating. A possible cause for this, according to the source, is the fact that the man refuses to tell doctors what sort of poisonous substance he ingested.
The couple's three minor children are now in the care of their mother's relatives. According to Talia Rayside, a cousin of the victim, the children are confused and still in shock.
Around the Web