Dr. Joshua Ramsammy, the distinguished academic and political activist who survived an assassination attempt during the resistance to the Forbes Burnham regime, died yesterday.
He was said to be in his mid-70s.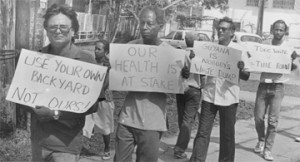 In stark contrast to his front-line activism for the Working People's Alliance (WPA) and other pressure groups, Dr. Ramsammy had taken to keeping a low profile in recent years, owing partially to ill-health. His family declined to disclose details about his passing yesterday, in keeping with his wishes.
Dr. Ramsammy was an aquatic biologist and served as a lecturer at the University of Guyana (UG), where he also held the post of Pro-Chancellor up to 2005. His academic achievements were complemented by his activism and he was a founding member of Ratoon, a UG-based group and the Move-ment Against Oppression (MAO). Both groups have been described as fiercely critical of the political and democratic deterioration in the country during the early years of the PNC administration (Ratoon was also one of the organisations that eventually formed the WPA). In 1971, he was shot in broad daylight in downtown Georgetown, the bullet piercing his lungs. No one was ever arrested and the act has been seen as a harbinger of later extreme acts, including the murder of historian and WPA Leader Dr Walter Rodney.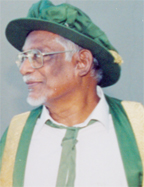 Professor Clive Thomas, who was also a founder of Ratoon and a close friend of Dr. Ramsammy's, yesterday remembered him as "a brave and gallant soldier fighting on behalf of the working people of Guyana." He said it was a fitting way for him to be remembered, since it was the cause that he lived for. Professor Thomas noted that Dr. Ramsammy was one of the first persons he met on his return to Guyana and the two worked closely in social, political and academic activism movements, becoming vocal critics of what he termed the "Burnham dictatorship."
Thomas said the shooting took place during an attempt to kidnap him and Dr. Ramsammy exhibited a lot of bravery during the episode.
Professor Thomas is also co-leader of the WPA along with Dr. Rupert Roopnaraine.
Dr. Roopnaraine characterised Dr. Ramsammy as a "courageous" and "energetic" brother, recalling his activism, including the work predating his involvement with the WPA. He noted that while a teacher at Queen's College, Dr. Ramsammy was seen as s a terror by students, but he added that upon getting to know him he could be found to be a "gentle, loving man." He would be dearly missed, Dr. Roopnaraine said.
Activist Bonita Harris was recruited by Dr. Ramsammy to edit and proofread Ratoon's various publications. She called him one of her first political mentors and said he was a "good-humoured" man who was always "generous" with his time and his expertise. And also his home, where he would hold meetings of the various groups he worked with. Harris also remembered that he was the person who pierced her ears when she asked him to do it.
Guyana Human Rights Association (GHRA) co-President Mike McCormack said it was unfortunate that that more people were not aware of the "quite heroic" role Dr. Ramsammy had played during one of the worst periods of PNC rule. He described him as a brave and outspoken man who was an inspiration to many people. "Unfortunately, like many people from that era, his contributions have not been recognised," he said.
The shooting sparked outrage and condemnation in and out of Guyana. Dr. Ramsammy later told the Guyana Graphic that "ultimately… it is this type of politically informed concern on the part of the people and their militancy which will ensure the safety and welfare of all citizens…"
Around the Web