-had been detained over beating of child
The manner, in which a 38-year-old labourer decided to discipline his child drew the ire of neighbours, who reported him to the police, and he was detained only to be discovered hanging in the La Grange lock-ups a few hours later on Tuesday night.
Dead is Mahendra Seenarine of Good Land, Canal Number One, WBD. Police, in a statement yesterday, said that the Office of Professional Responsibility (OPR) is investigating the circumstances surrounding the man's death. He was discovered hanging in his cell at the lock-ups at about 9:30 pm on Tuesday during a routine check, the police said.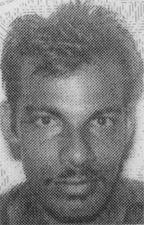 The lawmen pointed out that checks are done periodically when persons are in custody. "He was found hanging by his pants and tee shirt which were tied together from the door of the lock-ups. No marks of violence were seen on the body", the statement said.
It added that Seenarine was arrested by police ranks and placed in the lock-ups at about  6:45 pm on Tuesday  "following response to a report made by his neighbours that he had assaulted his wife who had managed to escape, and was physically abusing his six-year-old stepson who had to be rescued by neighbours."
The man's death has left persons in the community stunned and his wife, Salina Dilchand, 23, denied that she was assaulted.
Recounting to this newspaper, how the incident occurred, she said that her eldest son, Georgie Mon Plaisir, who is six years old and the step-son of Seenarine, had been asked by the child of a neighbour to throw over a pin, that was stuck in the ground and attached to a rope, which held a goat. The goat belonged to the neighbours and was grazing in the Seenarine's yard.
Dilchand said that her son threw over the pin, but it got lost in the grass and the neighbours' raised their voices as they searched for the pin. After he heard the neighbour's loud voices, Dilchand said the her husband got upset and picked up a belt and dealt his step-son two lashes while reportedly telling him "you don't right to trouble things that don't belong to you". She said that her husband was attempting to teach her son not to be "fast".
The woman stated that her son was crying and she sent him to have a bath, when the neighbour came over and grabbed him stating that he was going to take him to the police station. The man also reportedly told Seenarine that he was reporting the matter. "He sey he gon show he where barley gon grow this afternoon", the woman recounted.
She said that Mon Plaisir was placed in the bus, given clothes, and the neighbour drove away. She stated that on the way out of Canal Number One, he met police ranks and reported the matter and the lawmen came to the home and told her that Seenarine, who was upstairs, was wanted at the station. Complaining loudly, her husband was taken by the lawmen, she stated.
The woman denied that she was assaulted by her husband though she noted that he had threatened to slap her. She revealed that he had been consuming alcohol that afternoon and after the incident, he had asked for $200 to put credit in his cellular phone. "Me tell he me din had no money", she stated adding that he did not hit her and "he just raise he hand". She said that this occurred on the stairs and came downstairs while he remained at the upper flat. She acknowledged though that Seenarine sometimes hit them, but asserted that it was at times when he was drunk.
Recounting how she was told that Seenarine was dead, Dilchand stated that at around 11 pm on Tuesday, police returned and asked her where her husband was. She stated that she was told they wanted her son and the person who took him to the station and asked her if she had ever gone to the hospital. She was then told that Seenarine was dead. "They tell me sey that me husband hang heself with he shirt and he pants and when they tek he down he still breathing (but) be time they reach to the hospital, he dead".
Meantime, Dilchand was upset at the actions of police yesterday. She stated that the lawmen came for her and Seenarine's sister yesterday so that they could identify his body but after leaving his sister at the La Grange police station, they took her to Goed Fortuin to "collect paddy shell". When she was finally taken to the West Demerara Regional Hospital, she said, she was told that the mortuary was closed and she would not be able to identify the body until tomorrow. Dilchand asserted that she had noticed that the mortuary's door was open. "They don't want to show me the body", she declared.
She said that too, the family and the neighbours normally "live good" and they had stated that her husband should not have hit the child.
Seenarine is survived by two other sons, Suraj, 2, and Rajiv, six months old. "Who gon take care of them", neighbours and relatives, who gathered at the home yesterday, wondered.
Meantime, the police said that they are awaiting the results of a post- mortem examination.
In recent years a number of detainees have died in lock-ups and various probes have been commissioned of how this was possible when the police were supposed to be keeping a watchful eye on them.
Around the Web