A 54-year-old immigration consultant yesterday pleaded not guilty to three counts of forgery when he appeared before Acting Chief Magistrate Melissa Robertson at the Georgetown Magis-trate's Court, and he was subsequently remanded to prison.
It was alleged that on July 5, 2008 at Georgetown, Balwant Persaud, an immigration consultant at the Balwant Persaud Canadian Immigration Consultant firm at 57 Robb Street, Bourda, where he also lives, with intent to defraud, forged documents, promising students that he could get them to study in Canada.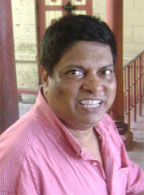 It was also alleged that on June 11, 2008, at George-town, Persaud received the sum of $1.2M from Jaipaul Jaikaran promising to get a visa for him knowing same to be false.
And allegedly on August 7, 2008 at Georgetown, with intent to defraud, the defendant received the sum of $1M from Nadira Mohan promising to get her a Canadian visa knowing same to be false.
According to Glenn Hanoman, Persaud's lawyer, "My Worship this is not your regular forgery cases since my client is in his capacity certified to do this kind of job of getting visas for persons." Hanoman then presented his client's certificate to the magistrate.
He further stated that his client should be granted reasonable bail since he was placed on $50,000 station bail by the police and had been reporting to them ever since and is not a flight risk. According to Hanoman, his client is innocent of the charges for which he stands accused and he added that "we will get to the bottom of this my Worship."
Police Prosecutor Denise Griffith objected to bail stating that there is an issue of a flight risk since the defendant is a citizen of Canada and according to her, "My worship he is not licensed to do such immigration practices here in Guyana."
Bail was subsequently refused and Persaud was remanded to prison. He will return to court on February 18.
Around the Web