Antigua's financial regulator yesterday announced plans to question Stanford Internation-al Bank officials about a probe into higher than average returns on its certificates of deposits which have raised red flags in the U.S.
Leroy King, head of Antigua's Financial Services Regulatory Commission, said it would seek to protect the island's interests, but he stopped short of announcing a formal investigation, in part because no customers have complained.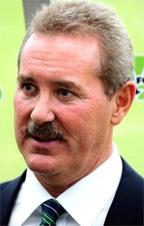 For at least three months, U.S financial regulatory agencies have been investigating Stanford Financial Group Co, Stanford International's parent company. The Houston, Texas-based investment firm run by billionaire Allen Stanford, who has blamed disgruntled employees for stoking the probe by the U.S Securities and Exchange Commission (SEC), the Florida Office of the Financial Regulation and the Financial Industry Regulatory Authority. He has assured clients that the examinations are routine
King, however, told Reuters yesterday that the Antiguan Commission was responding to inquiries from U.S. investigators. He said it would be reviewing unspecified requests from the SEC later on Friday before meeting with Stanford International officials to question them. (No updates on the meeting were available up to press time.) He added that no customers complained and no credible evidence has emerged to trigger a formal investigation. The agency's last examination of Stanford, a few months ago, raised no red flags, he said. "It was indeed satisfactory," King was quoted as saying. "We have no credible information coming to us to say that they are not sound."
BusinessWeek on Wednesday reported that regulators were probing how the St. John's-based Stanford International Bank Ltd. has been able to offer high returns on CDs, while investing in stocks, real estate, hedge funds and precious metals, many of which have lost value in recent months. The returns have drawn comparisons to similar promises made by money manager Bernard Madoff, who was arrested last year for bilking high-profile investors in a US$50 billion scheme.
'It's not a Friday
afternoon cocktail
any more'
King, however, yesterday sought to downplay any comparisons Madoff scheme. With liquidity an issue for most banks as a result of the global meltdown, Stanford injected fresh capital into Stanford International last year, he said. "I know Allen Stanford personally put close to half a billion dollars of his own money to beef up the capital structure of the bank," he noted.
King added that there had been no reports of a run on Stanford International assets, but he said would quiz bank officials later on Friday, in part due to his responsibility to protect Antigua and Barbuda's reputation. "They are our biggest bank," he said, "but we can't let that ride over Antigua and Barbuda's name."
He declined to say what his agency would ask Stanford officials, but said regulators would "dig a little deeper" because of the suggestions made in press reports. "It's not a Friday afternoon cocktail any more," he said. "It's taking off the gloves. We have a job to do to protect our jurisdiction."
Stanford has blamed the probe on disgruntled former employees. The SEC was alerted to Stanford last year when two former company employees, Charles Rawl and Mark Tidwell, told regulators that they suspected Stanford was engaged in illegal practices related to selling the CDs and other securities. "Although Rawl and Tidwell repeatedly asked Stanford management to change Stanford's business practices, Stanford refused to cease its illegal activity, and Rawl and Tidwell were forced to resign rather than expose themselves to criminal and civil liability," the men said in a lawsuit filed in Texas state court last year. Rawl, Tidwell and their lawyer could not be reached for comment yesterday.
In a Feb. 11 e-mail message to clients, obtained by Bloomberg News, Stanford himself said regulatory officers have assured that recent visits are part of "routine" examinations.  "Please do not get discouraged by what you read in the press," he wrote in the letter. "We are hard at work delivering on our commitment to you."
He added that Stanford remains a strong institution. "…Even without the benefit of billions in U.S. taxpayers' dollars we are taking a number of decisive steps to reinforce our financial strength. We will take the necessary actions to protect our depositors," he said, adding that he would take "whatever steps necessary" to protect their deposits.  "We have already added two capital infusions into the bank and are considering additional actions," he wrote.
Amidst losses spread all around international financial markets, Stanford Financial Group has claimed to have boosted the assets it oversees by 30%, to more than US$50 billion. But rivals yesterday said they were not surprised at the investigation, saying that the firm's steady returns had long been a source of concern.
'Gobsmacked'
Since 1995, prospective investors have been told that they could generate annual returns ranging between 10% and 15% with the Stanford Bank, which has US$8.5 billion in assets and 30,000 clients. On its website, Stanford is listing a $100,000 CD that paid a 4.5 percent annual yield in its financial highlights for last year. That is higher than most CDs of that duration offered by major U.S. banks in the past 12 months.
Russ Dallen, who used to head Venezuela operations of Oppenheimer & Company in Caracas, said clients were moving money from his company to Stanford, wooed by promises for "14 percent on savings, guaranteed." "We were just gobsmacked because guaranteeing those kinds of returns is just not possible," Dallen said. Some investors became more cautious and pulled out because they did not understand exactly where these returns were being generated, an accountant and investment adviser who worked with them said.
According to U.S. regulatory filings, Stanford owns more than 10% stakes in three companies trading below $2 per share on the Bulletin Board or Pink Sheets: eLandia International Inc (ELAN.OB), a Coral Gables, Florida technology company; Forefront Holdings Inc (FFHN.PK), a Brentwood, Tennessee provider of golf supplies; and Health Systems Solutions Inc (HSSO.OB), a New York technology and services company.
"These were not exactly blue chip companies," said Bob Parrish, an accountant in Longboat Key, Florida, whose clients pulled roughly $500,000 out of Stanford last year.
The news of the investigation coincides with reports that Stanford is set to announce a substantial scale-back of his investment in cricket in the region. Last December, he closed his cricket office in Antigua and dissolved a board of legends he had recruited.
Around the Web