A Bush Lot, West Berbice farmer suffered injuries to his head and ear after he was severely beaten and robbed of $60,000 and a cellular phone around 10 pm on Thursday.
Rajesh Singh, 34, was rushed to the Fort Wellington Hospital where he was admitted a patient. He was later referred to the Georgetown Public Hospital where he underwent emergency treatment. An ultrasound which had to be performed proved that the injuries were not critical but relatives said he was bleeding from the ear and would have to visit a specialist on Monday.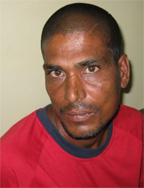 Singh told Stabroek News that he was drinking at his home with three friends and that at around 9:45 pm he went with two of them to a rum shop in the village. He said that after a while the friends drove off in their car and he decided to leave the shop. As he was leaving, three men who were also in the shop followed him.
They covered his mouth, choked his neck and dragged him into the street. They then proceeded to beat Singh in his head and removed the cash – proceeds from the sale of his tomatoes – and cell phone from his pocket.
Meantime a woman who had seen them dragging Singh through the street contacted a neighbourhood police but when he arrived at the scene the attackers fled. They are still being sought by the police.
Around the Web