Mahendra Seenarine, who was found hanging in the La Grange lock-ups on Tuesday night, died from asphyxiation due to hanging, the post-mortem examination has revealed.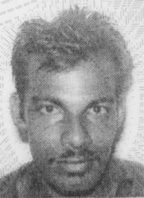 Seenarine, 38, and a labourer of Good Land, Canal Number One, West Bank Demerara was discovered hanging in his cell at the lock-ups around 9:30 pm on Tuesday during a routine check, the police had said.
In a statement the force had stated that the Office of Professional Responsibility (OPR) was investigating the circumstances surrounding the man's death. "He was found hanging by his pants and t-shirt which were tied together from the door of the lock-ups. No marks of violence were seen on the body," the statement had said.
The post-mortem, which was conducted at the Georgetown Public Hospital on Thursday by Dr Nehaul Singh, found that he died as a result of "asphyxiation due to compression injuries to the neck by hanging," the police stated in a press release.
His wife, Salina Dilchand had earlier told this newspaper that Seenarine had been detained over the beating of his six-year-old stepson, after neighbours reported the matter to the police.
In recent years a number of detainees have died in lock-ups in varying circumstances. In July 2004, 38-year-old Kellawan Etwaroo, called "Ramesh" of La Grange, was discovered dead in the La Grange lock-ups. A post-mortem examination had revealed that Etwaroo died from blows to the head inflicted with a blunt instrument and he suffered a massive haemorrhage and his body also had marks of violence.
More recently, on October 31 last year, James Nelson, 47, called 'Jimmy,' of Stanleytown, West Bank Demerara was found dead in a cell at the Brickdam lock-ups. Relatives had said that they were told that he suffered a ruptured spleen, among other injuries. The Police Complaints Authority (PCA) had looked into the matter and concluded that the evidence was not clear as to who inflicted injuries on Nelson, and while recommending that an inquest be held had said that the ultimate decision rests with the Director of Public Prosecutions (DPP).
In June last year, 32-year-old Surendranauth Bogenauth called 'Slackie', of Belmont, Mahaica, East Coast Demerara, who was placed in the Mahaica Police Station lock-ups after allegedly hitting a woman, was found hanging in the lock-ups. A post-mortem examination showed that he died from asphyxiation due to a compressive injury to the neck.
In January last year, 19-year-old Ramesh Sawh was found hanging by his jersey in the Enmore Police Station lock-ups. A post-mortem examination gave the cause of death was given as asphyxiation due to compression of the neck due to hanging. An inquest into the death was subsequently ordered by Chief Justice Ian Chang.
Around the Web