"We have never charged out consumers VAT on their electricity bill and we don't ever intend to," Chairman of the Board of Directors of the Linden Utility Services Co-op Society Ltd (LUSCSL) Valarie Adams said, as she led residents of Wismar on a peaceful protest through the streets of Linden.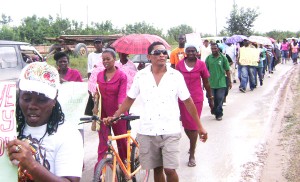 The protesters marched from Wismar to Mackenzie making stops at the Guyana Revenue Authority office at the Linmine Office Complex, with their main chant being, "We ain't paying no VAT."
Speaking with Stabroek News Adams said the protest was called by members at a recent where they were informed about a letter served to the LUSCSL demanding payment in excess of $112 million as a value-added tax (VAT) liability. "We do not charge our consumers VAT therefore we are not supposed to pay VAT," she stressed
LUSCSL has been making valiant efforts to register under the Electricity Sector Reform Act which would have qualified them for Value Added Tax exemption. However, this was not possible without a distribution licence, which the society does not have. "We have applied to the Government of Guyana, since in the days of Mr Bynoe around 1996, for our distribution licence," Adams said. Since then, past and present management have been engaging the government especially Prime Minister Samuel Hinds on the issue, she added. Though there is correspondence back and forth on the matter, the society has never been issued the licence.
Recognizing that the GRA was only acting in the confines of the law, residents said the government has been very tardy in addressing the issue. They claimed that nowhere else in Guyana are consumers required to pay VAT on their electricity bills and it is totally unfair to make such a demand of residents of Wismar and the LUSCSL whose membership is 400.
LUSCSL has been distributing both domestic and commercial electricity on the Wismar end of Linden. The society purchases electricity from the Linden Electricity Company Inc, which purchases power from Chinese firm Bosai, and also distributes to Mackenzie.
According to Adams, LUSCSL intends to continue the street demonstration until the government issues its license which would then allow it to be exempt from paying VAT.
Around the Web