Eleven days after the case against him was discharged because police witnesses did not show up, Terrence Sugrim was charged again with the unlawful possession of firearms arising from a 2007 police raid and made an appearance yesterday at the Georgetown Magistrate's Court.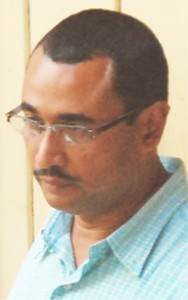 He was placed on bail in the sum $300, 000 as ordered by Acting Chief Magistrate Melissa Robertson.
Sugrim, 43, of Parfait Harmonie, West Bank Demerara pleaded not guilty to the charge of unlawful possession of firearms and ammunition.
It is alleged that on June 28, 2007, at Sugrim's home, he was found with a .32 Taurus pistol and a .32 Walther pistol, without being the holder of a firearm licence. Sugrim, was accused of having on the same day seventy-five .32 rounds of ammunition and 85 twelve-gauge cartridges.
His lawyer Glenn Hanoman said that this was the third time that his client had pleaded not guilty to the charges.
The second time he pleaded not guilty had been at the Vreed-en-Hoop Magistrate's Court and at the subsequent trial the police witnesses were absent and the matter was discharged.
Hanoman also said that Sugrim's wife is on trial for the same matter.
He subsequently made a bail application on the grounds that his lawyer is not a flight risk and has been cooperating with the police in their investigations.
His case was transferred to the Wales Magistrate's Court for February 20.
Among the police witnesses not turning up at the trial at Vreed-en-Hoop was the main witness, Detective Sergeant Mitchell Baron. Stabroek News was told that Baron had left the Guyana Police Force some time ago and is "out of the jurisdiction". The success of the case is said to have hinged upon his testimony but he never gave evidence in Sugrim's matter.
Following the discharge of the matter at Vreed-en-Hoop, the Police Office of Professional Responsibility had launched an investigation into why police witnesses did not turn up in court, Crime Chief Seelall Persaud had told Stabroek News.
Commander of 'D' Division, Paulette Morrison, while stating that she had no comment on the matter, had pointed out that the case was discharged and not dismissed and could be recalled at any time.
Sugrim had previously shared the charges with his reputed wife, Michelle Davis but they were withdrawn against him and she had faced them alone. However, he was later charged again for the same offences.
Sugrim was wanted by United States authorities to face trial for allegedly conspiring to traffic in narcotics.
He had been arrested in a police operation and an extradition hearing was held. Following the hearing at the Georgetown Magistrate's Court, Magistrate Hazel Octive-Hamilton had committed him into custody to await extradition to the US to face trial for allegedly conspiring to traffic in narcotics.
However, on April 17 last year, Justice Jainarayan Singh Jr. released Sugrim on $1M bail in the High Court following a habeas corpus application by his legal team. Stemming from the application filed by Sugrim's legal team, Justice Singh found that many factual errors were made by the magistrate during the hearing and they were serious enough transgressions to render her rulings in relation to the committal unlawful and unfair. Bail was granted in the sum of $1M.
Shortly after his release, police had rearrested him and slapped him with the charges of illegal possession of guns and ammunition and he was then taken to the Principal Magistrate, where he was granted bail.
The trial then proceeded at Vreed-en-Hoop.
Around the Web