A 26-year-old woman is now hospitalised following a violent knife attack by the father of her child who later killed himself.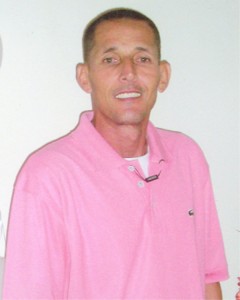 A stabbed, cut and bruised Dianne Browne said from her bed in Ward C of the Georgetown Public Hospital that she still feared for her life even though the man who attacked her, 44-year-old Julius Chung is no more.
It was a bloody scene at the Lot 40 Joseph Pollydore Street, Lodge, home yesterday where Chung bled to death on a mattress in one of the rooms around 11:30 am.  It was in that same room he launched the knife attack on the mother of his 13-month-old son, who valiantly fought for her life, escaped and sought help from her landlord who lives above their apartment.
From all indications, Chung, who had visited the home earlier in the morning, waited until no other adult was home before barging in. He kicked open the bedroom door and attacked Browne who was trying to conceal herself in the room. He attacked the woman in the presence of her 11-day-old nephew, whose mother had just left for the market, and her one-year-old niece.
When Stabroek News arrived at the scene yesterday the man's body was still in the house. It was removed over an hour later by workers of the Lyken's Funeral Home, as police officers were conducting their investigations.
A bleeding Browne, hands covering the stab wound in her abdomen, was forced to hitch a ride on a bicycle to the Davis Memorial Hospital, from where she was transferred to the GPH.
'Hug me'
Speaking to Stabroek News from her hospital bed yesterday Browne said she had told Chung that the relationship was over but he refused to accept it. She said the man threatened to kill her several times before and on one occasion he even said he would have killed her entire family. She said she ended the relationship around September last year.
Browne said Chung visited her home early yesterday morning in the company of a woman to collect some of their child's belongings. She explained that he had taken the child to stay with someone since she wanted to look for a job and could not take care of the child. Browne explained that she has an older child who attends nursery school and it was hard on her so she allowed him to take the child. She said Chung, who had three older children, then left. However, he returned.
With tears rolling down her cheeks as she examined her bandaged fingers, Browne said her sister went out and she closed the door behind her, but soon after, she observed Chung opening the door; he had put his hand through the louvre window.
"When I see he opening the door, I run in me room and close the door and he come in the house and start telling me that he just want talk and I should open the door."
However, Browne said she was scared and she refused to open the door. She said the man, with whom she had had a relationship for just over two years, continued to beg her to open the door so they could talk.
"When I didn't open the door, he kicked it open and he come and hug me and I say he trying to kiss me or something but then I feel like a stab in me back and then I know he had a knife."
Shaking her head in disbelief as she spoke, Browne told Stabroek News that she immediately started to fight with the man, "because I was trying to get the knife to throw it away.
"I really fight he. You see how me fingers cut up and so? I fight and I fight and I get to run away and run up the stairs at me neighbour and tell he what happen. A boy then carry me to the hospital," the young woman said.
Browne's mother, Jacqueline Rodrigues, works as a nurse at the Davis Memorial Hospital but was not at work at the time since she had travelled to West Demerara on Tuesday to visit a sister.
'Watching cricket'
Browne's 71-year-old landlord, Lawrence Ferdinand, told Stabroek News that he became aware that something was amiss when the young woman ran up to his door bleeding profusely.
"I was watching cricket when I hear this rapping on the door and when I open the door I see her bleeding and holding she side and she tell me how she child father stab she," the man said.
He said he immediately told the woman that she had to seek medical attention but she said she was scared to go back downstairs as her attacker was still there.
"So I go downstairs with she and I tell she to go out on the road to get someone to take her to the hospital," Ferdinand said. "You see I had me cutlass on the steps, as I was weeding me yard [earlier] and I pick up the cutlass… If he had come outside when she passing, I woulda chop he," the man said.
He said he had no idea that the man had killed himself until the police arrived on the scene and the door was opened and they were greeted with the sight of the man's bloodied body.
Browne's blood formed a trail from Ferdinand's door, down the stairs all through the yard to the gate. Ferdinand said Browne and her relatives moved into the apartment last year September.
'Shocked'
Meanwhile, at Chung's South Road home, his relatives expressed shock and disbelief at his action as according to them even though the couple might have been having problems they were unaware of the circumstances.
One of Chung's sisters said they had known Browne for years since she went to school with one of Chung's siblings and used to visit the home as a young girl.
She said it was just over two years that the two started an intimate relationship and at one time they lived together at Kaow Island in the Essequibo. But they returned to the city last year August and Browne returned to her relatives, while Chung moved back with his family.
The sister said Chung would still visit Browne. He never confided in them that they were having problems.
Chung had told his relatives that he had to take his child from Browne because she told him that she could no longer take care of the boy. Because there was no one, except his ill mother at home to take care of the child, he told them that he was going to leave the child with "some people." He could not look after the child himself, as he worked nights and had a part-time job in the day.
He would give them regular updates on the child's welfare and had even told them that the child had gone to spend the day in Berbice yesterday with his guardian.
When he left his home yesterday morning, he had told his mother that he was going to collect an unpaid debt and he would return home later. Family members said they were shocked when they were told of Chung's death as he never exhibited any violent or suicidal tendencies.
'Text messages'
Browne's sister, Alicia Browne, said after her sister told Chung that it was over he would beg her and she told him to move on with his life. She said her sister showed her numerous text messages in which Chung threatened to kill her.
Her sister had also told her that the man had threatened to kill her, their son and himself on many occasions.
She said when she left for the market yesterday morning she had no idea Chung was still around since he had left the house a while before. She was shocked when she returned and found a crowd in front of the house and Chung's body in one of their rooms.
"I just happy he ent hurt any of the children," the grieving young woman said as she held her little niece in her arms. She said even though Chung had threatened her sister she never believed he would have made good on his threats as he never appeared to be a violent person.
Yesterday's attack on Browne followed a bloody pattern for women this week as three were murdered and a teenager violently attacked.
Nekecia Rouse and Alexis 'Keisha George were stabbed to death early Sunday morning in new Amsterdam, allegedly by an acquaintance of Rouse, while Port Kaituma resident, Deborah Allen, was hacked to death by her reputed husband the same morning and her 16-year-old daughter, Sherrian Allen chopped across the face.
Around the Web