Prime Minister Samuel Hinds urged the public to support the police during the unveiling of a plaque in memory of the three police officers slain in the line of duty when gunmen ambushed the Bartica Police Station a year ago Tuesday.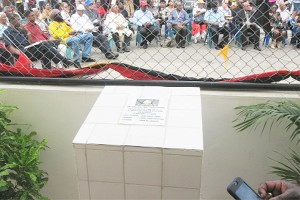 According to a Government Information Agency (GINA) press release the plaque was revealed during a sombre service held in the station compound. The  inscription on the plaque reads "Fallen but not forgotten, killed in the line of duty at the Bartica Police Station on Sunday, February 17, 2008, Lance Corporal Zaheer Zakier, Lance Corporal Shane Fredericks and Lance Corporal Ron Osborne."
Hinds, Chairman of the Ethnic Relations Commission, Bishop Juan Edghill, and Region Seven Chairman Holbert Knights were among a large number of Barticians who gathered to pay their respects and to support the victims' relatives.
In his address the Prime Minister said the incident was a time of great testing for Guyana.
He said too memories of the incident are still fresh in people's minds, recalling that a frightened relative had called him during the shooting. However, he encouraged residents to find comfort in the fact that many of the perpetrators of the callous attacks both in Bartica and Lusignan have been brought to justice. He also told the gathering that the security forces are the most at risk group countrywide and that they needed the people's support to do their duty.
Meanwhile, Superintendent of the Bartica police station John Sauers said the incident has spurred some Barticians to join the crime fighting effort in the community. While he acknowledged that it is the duty of law enforcement officials to dismantle criminal elements in society he called on law abiding citizens to offer their support to strengthen efforts. "Some say crime is out of hand in Bartica but Bartica is a part of Guyana and we mustn't be distracted. We must remain focused and take the necessary precautions such as securing our possessions," Sauers said.
Additionally, Assistant Commissioner of divisions 'E' and 'F' Nolan Hendricks said that the ambush was not the first time that a police station had been attacked in that manner. However, he said a service will be held annually to remember the lives lost in the last attack.
Around the Web