A speeding minibus coupled with a pedestrian's careless use of the road resulted in an accident that saw several persons being rushed to the Georgetown Public Hospital with injuries last evening.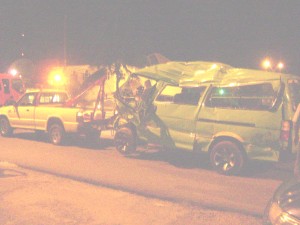 According to reports, Route 42 minibus BLL 4481 was speeding north along the East Bank Public Road and was in the vicinity of the Banks turn when the driver swerved to avoid a girl who was crossing the road. The driver lost control of the bus and the vehicle ended up on its side in a trench a few metres from Rahaman's Rent-A-Tent facility.
Stabroek News was told that the girl had just disembarked another minibus when she attempted to cross the road.
The girl was not hurt in the incident and left the scene after the accident occurred.
The front seat passenger 42-year-old Mark Chapman was pinned in the bus for over an hour before he was finally rescued mainly due to the efforts of public-spirited citizens who teamed up with officials from the Guyana Fire Service.
This effort required the use of a truck and other machinery and manpower before the bus was able to be lifted off its side and the man finally freed from the bus.
The other injured persons are Agnes Dhana of Second Street Alberttown, Lakpaul Ramnarine from Garden of Eden, Debra Singh and Bharrat Sugrim of Better Hope, Gertrude Dash  and Yvonne Walcott who resides in Hadfield Street.
Around the Web