Despites projections of a decline, with a good second crop the rice sector could still surpass last year's production level, according to PPP/C MP Dharamkumar Seeraj.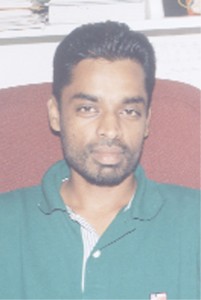 Rice production in 2008 soared to 329, 574 tonnes, the highest annual level in five years, with exports amounting to 196,000 tonnes, earning US$118M. But the 2009 Budget estimates a 7.1% decline this year to 306,156 tonnes, as a result of poor weather conditions and delayed planting.
But Seeraj, who is also Secretary of the Rice Producer's Association (RPA), explained the lowered projection is as a result of the loss of over 17,000 acres of rice, especially in regions 5 and 6. "Take note that we have done our part in the rice sector," Seeraj said during his presentation in the Budget debate on Tuesday night. He noted that in 2008, the target for the sector was revised twice upward, but it was met nonetheless. "This year… I rather suspect that if we have more favourable conditions for the second crop, we might still be in a position to beat the 2008 performance."
The government has stated in the budget that to sustain a high production level there would be a new seed facility constructed at Number 56 Village, aimed at decentralizing seed production from Burma and facilitating easier access to improved seed stock by farmers. Over $40 million will be invested at the Burma complex to procure laboratory and specialized equipment in order to improve the diagnostic capabilities of the industry while a training programme for over 1,500 farmers will be conducted countrywide and two new and improved varieties of rice will be launched.
Around the Web