A second day of protest action by members of the Linden Utility Services Co-op Society Limited (LUSCSL) and electricity consumers at Wismar was called off about noon yesterday following an announcement by management of the society that the Guyana Revenue Authority had responded in the affirmative, rescinding the VAT-on-electricity levy proposal.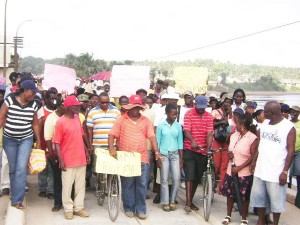 On Monday the protest was called by LUSCSL members following a  meeting when they were informed about  a letter delivered to the co-op society informing the body of a $11.9M  VAT liability.
The co-op society had said that the GRA had written to it on January 29, 2009 stating that LUSCSL, which had been distributing electricity at Wismar for the past 50 years, was not authorized to treat the supply of electricity as zero-rated.
The society had noted that it would mean a 16% electricity rate increase for Wismar residents but this position was unanimously rejected by the LUSCSL membership and other Wismar residents at a specially convened meeting last Thursday.
Stabroek News was told by  secretary of the committee of management Charles Sampson that they had now received correspondence from  the GRA which seemed favourable to them.
"The correspondence we received will effectively remove the VAT situation on electricity earlier today (Thursday). It specifically states that regardless of the licence there is no VAT charges on electricity for the people of Wismar."
He said that the protest had achieved its end and the process was  in train to ensure that LUSCSL got its licence for the distribution of electricity.
However, Sampson said that the committee of management would like to receive correspondence from the Minister of Finance Dr Ashni Singh  as it relates to the $11.9M payment the GRA was asking for with respect to last year.
"We have not been in contact with the minister of finance but GRA has been in contact with him because they cannot remove that $11.9M without the permission of the minister, so that's what we are waiting on. Once we get that LUSCSL will no longer be faced with that liability."
The protest yesterday got started around 8 am and was fully supported by ferry services and bus and taxi drivers who all ceased operation until the action  was called off.
Several businesses on both shores were also closed for the day while some schools sent home children as they feared the worst.
The protestors marched from  LUSCSL along Burnham Drive to the Mackenzie/Wismar bridge. Once at the bridge they decided that they were not going to proceed further and insisted on staying there  until they got a positive word. However, the marchers were divided as some felt that the plan was to march to the Mackenzie Market Square and not to stay at the bridge, and so they continued along the route. They were however lured back to the bridge by leaders of the protest at which point they were notified of the latest development.
Around the Web