Several women belonging to the group, Red Thread, were prevented from entering the Public Buildings, where the National Assembly was debating the budget yesterday.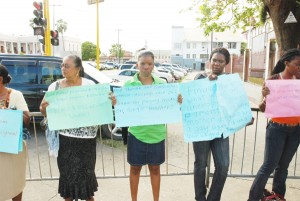 They were earlier standing on Avenue of the Republic, holding placards in protest at the impact the 2009 Budget would have on poor people. The women then attempted to go to the Public Buildings to listen to the ongoing debate but were prevented by police from doing so.
According to Joycelyn Bacchus, who was one of the Red Thread members, one rank told them that they were not Parliamentarians and they would not be allowed to enter. She noted though      that Chartered Accountant Christopher Ram, was allowed to enter but he subsequently exited in solidarity with the women. She said that they wanted to listen to the debate, particularly as it relates to women, and were willing to leave their placards outside. One of their concerns was the fact that the allocation for the Single Parent Fund was less than what was promised last year. Bacchus stated too that she was told that she could not enter the Public Buildings dressed as how she was and she offered to remain outside with the placards but they were still not allowed inside.
While this newspaper was on the scene, the women attempted to enter the Public Buildings again but were told that they could not do so as they had been holding placards and were deemed as protesters. When the women questioned how Ram could have been allowed to enter, they were told that he had not been protesting. The women said that it was their right as citizens to be allowed to enter the Public Buildings to listen to the debate. One policewoman, who was not wearing a name tag, was heard stating that they work according to instructions and the women were at the wrong forum.
Ram, in a comment, described the issue as a dangerous one and argued that there is no way anyone in authority should have allowed it to happen. He stated that the Commissioner of Police or the Minister of Home Affairs should be made to provide an answer. That he was allowed to enter, while the women were denied entry is another absurdity, said Ram, because they are "people no less than I am". He said that in good conscience, he could not stay, when other persons were being deprived of their rights. Approached for a comment, the Officer in Charge, A. Davis, referred this newspaper to the Divisional Commander. After being denied entry again, the women left.
Around the Web