Almost one week after being shot in the head during a robbery, Terrence Plummer succumbed to his injuries at the Georgetown Hospital yesterday afternoon without regaining consciousness.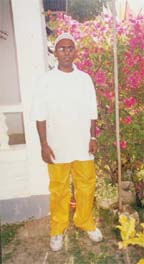 Plummer, 30 of North Sophia was a patient in the Intensive Care Unit at the time and was on a life support machine.
Days after the incident which occurred in front of the Imperial Chinese Restaurant on Sheriff Street, Plummer lapsed into a coma and his condition was listed at critical.
A relative told Stabroek News last evening that when the doctor went to check on him around 2 pm, he was already dead.
Because of his condition doctors could not perform surgery on him but his relatives were clinging to the home that he would recover.
An x-ray conducted almost 24 hours after the shooting revealed that Plummer had sustained severe brain damage.
The police in a press release had stated that Plummer and two other men were drinking in front of the restaurant when two men, one of whom was armed with a gun, approached the group.
The armed man placed the firearm to Plummer's head and discharged a round and as the wounded man fell to the ground, the bandit took away his jewellery, the police said. His accomplice then took away a cell phone and they escaped.
This newspaper was told that two men had been arrested shortly after the incident but had subsequently been released.
Around the Web