Twelve Berbice farmers recently participated in a tour of Greenfield Farms to see demonstrations of advanced technologies in farming and the benefits of using shade cloth, drip lines, plastic mulch and UV plastic.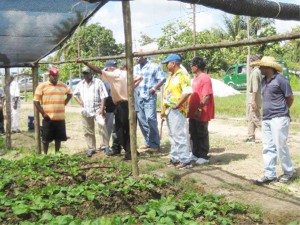 The tour was facilitated by USAID/Guyana Trade and Investment Support Project, a press release said. Greenfield Farms intends to produce crops targeted to the export markets using greenhouse, shade house, drip irrigation and other advanced agricultural technologies. It is equipped with modern irrigation systems: drip lines and fertilizer injectors; that allow fertilizers to be administered directly into the irrigation lines in specified quantities. Shade cloth and UV plastic are used to eliminate excessive sunlight and rainfall, and insect nets are used to minimise the amount of pesticides used. The farm also boasts a nursery for seedlings and a pack house is soon to be established.
Farmer Dhaniram Ramchand said he was impressed with the greenhouse. "With the ongoing climate change, excessive rainfall, and the rising food prices, this is the best way to save costs, reduce pests and disease, and get the most out of your crop," he said. Two other farmers expressed an interest in diversifying and incorporating shade cloth and UV plastic technology on their farms in Berbice. In addition some of the other farmers raised queries about crop projections, cost of materials, the benefits of using drip lines, planning time and labour costs, prevention of pest and disease due to the use of insect mesh. They also asked about the benefits of using advanced technology over traditional open field methods.
According to the release production will be targeted to the regional markets. Discussions with distributors, supermarket chains and farmers associations regionally and in North America have all been fruitful with buyers showing interest in sourcing products from Guyana. Greenfield Farms plans on growing high demand crops such as tomatoes (plum, cherry, large/round); sweet pepper (yellow, red, green); cantaloupe, honeydew melon, broccoli, cauliflower, string beans, several varieties of squash, seedless watermelon, papaya, carrots, lettuce, cabbage, several varieties of hot pepper and various types of herbs.
Once production gets underway the National Agricultural Research Institute (NARI) will use Greenfield Farms for research purposes and to demonstrate to farmers and schools how modern technology is used in agricultural practices. To further drive the agriculture sector the ministry has prioritized the promotion of agricultural exports and the training of farmers in using advanced agricultural technologies. With the implementation of the greenhouse technology, NARI will be able to work towards realising these goals through the farm.
Greenfield Farms is the brainchild of four New York based Guyanese who attended an investment seminar there for the Guyanese Diaspora, the release said. The four collaborated with a local businessman to establish the state-of-the-art agricultural farm. The group then partnered with the NARI and finalized an agreement that would allow it to lease land in Timehri to construct 20 greenhouses over a period of time.
Around the Web