Relatives of 43-year-old Mineo Holder, who was stabbed to death at his work site at Demerara Timbers Limited's Mabura location, have many questions as to the circumstances of the killing.
The relatives told Stabroek News yesterday that they are getting little or no information from the police and some of them have since travelled to the area to find answers. The group is yet to return but other relatives are hoping that they would come out with some answers.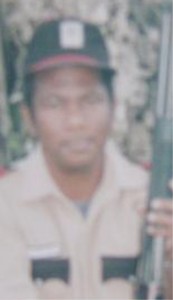 While the man's body has been removed from the location where he was employed as a security guard, his belongings are still in Mabura and his relatives who have travelled to the area will remove them.
Reports are that the man, of Lot 23 Silver City Hill, Wismar, Linden sustained a gaping stab wound to his abdomen and died before receiving medical attention.
He is said to have been found in the doorway of the quarters of another security guard with whom he had earlier had an argument over money.
The man's relatives are saying that it was Holder's money the two argued over. And some relatives are saying that reports are that Holder was left lying on the ground for over three hours and that his body was dragged back to his sleeping quarters and placed on a bed.
The man with whom he had the argument is yet to be arrested but police are looking for him.
And relatives have said contrary to earlier reports the man was not a heavy drinker and all he did was ask for money owed to him.
"All the sisters, all the relatives are just hollering and bawling because we don't know what happened. He was gainfully employed," one relative said.
Around the Web