MOSCOW, (Reuters) – Russian metals businessman Oleg  Deripaska, trying to restructure billions of dollars in debts  owed to Western banks, said he does not need financial help from  the state.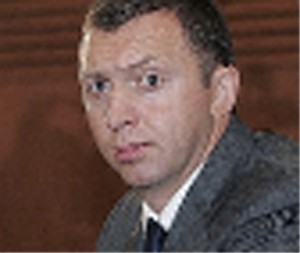 Deripaska controls the world's largest aluminium producer  United Company RUSAL [ORALM.UL and has been in talks with  Western and Russian banks to restructure billions of dollars of  debt. RUSAL has about $14 billion in bank debt.
RUSAL hopes to sign an agreement at the start of March on a  moratorium of payments on the principal of its debt, he said,  and talks are taking place with investors who would like to take  a stake in the company.
Russia's richest men, who went on a debt-funded spending  spree when the economy was booming, have been badly hit by the  economic crisis after the prices of oil, gas and metals tumbled.
The state has lent Deripaska $4.5 billion to help him  refinance western loans but Russia's leaders have been sending  conflicting messages about how much help they are prepared to  give the 41-year-old businessman.
"The state should be left alone. We do not need financial  help from the state," Deripaska told reporters late on Saturday.  His comments were embargoed for release yesterday.
"We on the contrary are striving to return the debt to it  (the state) and already have a mechanism," he said.
Deputy Prime Minister Igor Sechin has said Deripaska has  received unprecedented state support and should find a  compromise with private banks.
Sechin's comments contrasted to those of President Dmitry  Medvedev who said on Friday he agreed with Deripaska that  rivalries between different groups should not be allowed to lead  to the collapse of a whole group of companies.
"This is a crisis the likes of which our economy and the  world economy has not seen in more than 100 years," Deripaska  said.
Deripaska, thought to be Russia's most indebted man, said  RUSAL had a mechanism to restructure debts.
"RUSAL hopes to sign an agreement at the start of March on a  moratorium of payments on the principal of the debt. Then we  will have three to four months to agree about restructuring,"  Deripaska said at RUSAL's headquarters in Moscow.
"Banks not only know and like RUSAL but they must earn money  … After the crisis there will remain only three centres for  aluminium production — Russia, the Middle East and China — and  the banks understand this."
Deripaska denied reports his debts total about $30 billion,  saying the figure "had nothing in common with reality".
He declined to give an exact figure for his total debt  though he said the debt of his holding company, Basic Element,  was less than $1.5 billion.
RUSAL owes another $2.8 billion to Russian businessman  Mikhail Prokhorov, part of a cash and equity payment for  Prokhorov's 25 percent stake in mining company Norilsk Nickel.  Prokhorov is a RUSAL shareholder.
Deripaska said talks were taking place with investors who  would like a stake in RUSAL.
"We have investors which have long sought to become  shareholders in RUSAL. We are holding negotiations about this,"  he said. "It will be possible to speak about this only after  signing an agreement on a moratorium on (principal debt)  payments with the banks."
Deripaska, who flourished as a commodity trader in the chaos  that followed the fall of the Soviet Union, rose to be ranked as  Russia's richest man last year with an empire stretching from  airports to cement production.
But he has since been forced to divest assets in Canada and  Germany, and Russia's Finans magazine said this month his worth  had dropped to $4.9 billion from $40 billion last year.
Around the Web