It has been months since Rondell 'Fineman' Rawlins was brought down in a hail of bullets by members of the Joint Services but many still wonder whether it was his reputed girlfriend's mysterious disappearance that fuelled the murderous rampage at Lusignan.
However, one of the more puzzling questions is the location of Tenisha Morgan who was pregnant when she vanished from the Berbice bus park where she had begun to experience labour pains on January 18, 2008. She had just arrived in the city after travelling from her East Coast Demerara home, to stay with relatives in Kitty until she was ready to deliver her baby.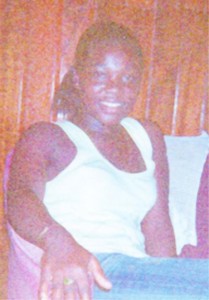 The Friendship resident left behind a cold trail with no trace of her whereabouts, but word out of Suriname is that she had been seen there as early as mid last year and may still be residing there. There has been no word on the location of her child.
Morgan is still a subject of interest as her disappearance was said to be the cause of Rawlins' first alleged murder spree at Track `A' Lusignan in which 11 men, women and children were killed on January 26, 2008. This came hours after an attack on Police Headquarters at Eve Leary in which two policemen were injured.
In a recent interview, Crime Chief Seelall Persaud was quizzed about the supposed link between Morgan and the massacre and other matters relating to the missing teen.
"If you are saying that Tenisha's disappearance led to those acts at Lusignan, how do we explain those at Bartica, Lindo Creek and all those that were committed by that group prior to her disappearance?" Persaud asked.
Days before the slaughter, a man purporting to be Rawlins had reportedly contacted the police and threatened to create mayhem if the missing teen was not found and returned safely.
This prompted the joint services to publicly declare that they did not have Morgan in their custody and the police subsequently upped their security arrangements.
A senior officer had told this newspaper that the threats were received by someone purporting to be Rawlins but the caller did not indicate exactly what he would do.
The officer had also pointed out that there was no system available locally for voice detection even though the voice sounded like Rawlins'. There are still doubts in the minds of many as to whether it was indeed the notorious gang leader who contacted the police.
More than a year later, Persaud said the police have no information on where Morgan is but he pointed out that she was still someone of interest to them.
No foul play
Morgan's mother, Waple reported her disappearance to the police four days after she went missing and an investigation was launched.
According to Persaud, investigators have concluded that there was no foul play involved in the disappearance and that Waple misled the police.
"The investigation showed that the mother lied … when she said that her daughter called and said that she was on a dam," he said, adding that the woman received several calls from that number on different occasions.
"We know that she lied and we showed her telephone records," he added.
A month after the disappearance, Waple told the police that her daughter called saying that she was stuck on a dam surrounded by bush with a river on one side.
Following the report, members of the joint services conducted several aerial searches over all the country's major waterways but neither Morgan nor any clues to her whereabouts was found.
Subsequent efforts were made to trace the origin of the phone call.
However, the mother's story changed after she was shown telephone records that revealed a number of inconsistencies. Waple told ranks that the call was first received by a friend and the second time the teen allegedly called, she was fortunate to be next to the friend. When the instrument was handed to her she recognized her daughter's voice on the other end. She then said when the call was made the friend was not around and that the call was received on her niece's phone.
The police still continued with their investigation in spite of the changes in the woman's story.
Two and a half months after disappearance, the teen's mother had not made contact with investigators who were still struggling to ascertain any information that could have led to her whereabouts.
Attempts by Stabroek News to contact Waple were unsuccessful. This newspaper was told that she has not been seen in Buxton where she resided, since after the Christmas holidays. Stabroek News was told that Morgan's disappearance had affected the woman greatly.
Following Morgan's disappearance, police had expressed an interest in an unidentified minibus driver who may have assisted Morgan in getting transportation at the Berbice bus park. Though the police pleaded with him to come forward with whatever information he had, he never did.
A wanted bulletin was then issued for a Friendship resident and he subsequently turned himself in at the Criminal Investigation Department (CID) in the company of a lawyer. After being questioned he was released.
On August 28 last year, following months of frenetic pursuit, Rawlins was killed during a shootout in an unfinished structure at Kuru Kuru, Linden-Soesdyke Highway. Escaped prisoner and multiple murder accused, Jermaine `Skinny' Charles who was with him at the time was also killed.
Around the Web