CHRISTIANSTED, U.S Virgin Islands, (Reuters) – From  the top of Recovery Hill, thick brush gives way to views of St.  Croix's northern coast and largest city, where waterfront cafes  and bobbing sailboats line the aquamarine sea.
It's easy to see why billionaire Allen Stanford chose to  live here.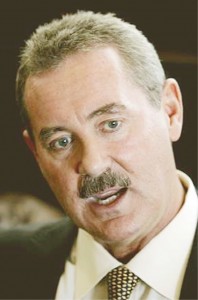 The Texas financier at the center of a multi-billion dollar  U.S. fraud charge owns several residential tracts in this  largely undeveloped area just outside Christiansted.
There are a few large homes along the hill's steep, winding  path but one property stands out with its long palm tree-lined  driveway beckoning from behind a mechanical black metal gate.
No house is visible from the road, but on Saturday the gate  bore a sign from the Virgin Islands Department of Planning and  Natural Resources saying that development on the site had been  stopped "due to environmental violations."
A neighbour who said the property belongs to Stanford is  worried that its owner's latest troubles may permanently kill  off the project, along with other investments Stanford has on  St. Croix, the largest of the three main U.S. Virgin Islands.
"He came to the islands, bought property and employed  people," said the woman, who asked to remain anonymous.
"Now this has taken the wind out of our sails."
Stanford, 58, has been charged by the U.S. Securities and  Exchange Commission with fraudulently selling $8 billion in  certificates of deposit with improbably high interest rates  from his Stanford International Bank in Antigua.
On the other side of the 84-square-mile (218-square-km)  island, construction on Stanford's massive business complex,  which was intended to serve as headquarters for support  functions of his financial empire, also seems to be stalled.
At one edge of the 37-acre parcel on the southwest corner  of the Henry E. Rohlsen International Airport, metal beams were  stacked and a backhoe sat parked beside a field of swaying  guinea grass.
The desolation is a far cry from the optimism that pervaded  the groundbreaking ceremony here a year ago.
"This is an exciting day for the Stanford Financial Group  of companies," Allen Stanford had said at the time, according  his company's glossy in-house magazine, The Stanford Eagle.
"Not only are we breaking ground on a facility that will  house the top-tier team that makes up Stanford Financial Group  Global Management but we are expanding our footprint in the  Caribbean with a permanent business home in St. Croix."
Plans for the St. Croix campus next to the tarmac include  105,000 square feet of office space incorporating architural  and design elements of St. Croix's "Danish West Indian style"  — a nod the territory's days as a Danish colony.
Also in the plan is a conference center to accommodate more  than 200 people, a 45,000-square foot aviation hangar and  office, a food pavilion and lounge area for staff and guests.
Stanford had also planned to establish on St. Croix the  offices for his Stanford Twenty20 Cricket Tournament.
Sharing The
Excitement
John deJongh, governor of the U.S. Virgin Islands, seemed  to share Stanford's excitement, according to the Eagle.
"I see the relationship between Stanford Financial and the  U.S. Virgin Islands as positioning the territory to become a  beacon of business opportunity and employment possibilities,"  he was quoted as saying.
As well as being a tourist haven, St. Croix, with a  population of about 60,000, is home to a Hovensa oil refinery  and a rum distillery owned by U.S.-based Fortune Brands.
Stanford promised more investment, and set up a Caribbean  Investment Fund to "select and invest in developments designed  to protect and enhance the region's natural beauty, environment  and ecology while providing permanent gainful employment for  local residents," the Eagle said.
According to the St. Croix Avis, a local newspaper,  Stanford owns a lot of real estate in downtown Christiansted,  where low-rise pastel buildings feature curved arches and  tourist-friendly boutiques.
Still, he seems to have kept a low profile during his  frequent stays.
He was known to be "friendly but cautious," according to a  taxi driver who said he driven Stanford's associates but never  the man himself. The driver declined to be identified by name.
"To the best of my knowlege, Stanford is a very private guy  who did not participate in the life of St. Croix but instead  stayed inside his security shell," said Doug Dawson, who runs a  bed and breakfast establishment on St. Croix.
"People here did see and meet his employees, and his pilots  stayed at my bed and breakfast whenever he was on the island.  He was here a lot in the last few years," Dawson said.
People around here wonder if they will ever see him again.
Around the Web