A 17-year-old boy is missing and feared dead following a mishap with a 30-ft fishing boat around 9 am on Saturday while the captain survived by clinging onto a rope on the boat for 27 hours.
Relatives are still searching relentlessly for Lakeram Mohanlall called 'Baby boy' of Kilcoy Squatting Area who disappeared in the water around 6:30 am on Sunday while apparently sleeping.
He left home for sea around 4 am on Saturday with the captain, Dharmendra 'Dinesh' Shiwpersaud who told Stabroek News that they were about six miles off the Corentyne shore when disaster struck.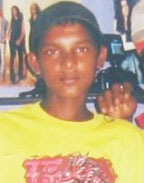 At the time they were pulling in seines when "a big wave come and lash the boat and it start to take in water." He said as they attempted to "bail out" the water several smaller waves hit the boat and by then it was totally submerged and subsequently capsized.
As they stood – and sometimes sat – on the boat and held onto the rope that was tied to the bow he said they would sometimes "wash and come in and wash and go out with the tide."
During this time their "muscles lock off with cramps" and they were in severe pain. The water also splashed into their eyes blurring their vision and they swallowed a lot. The survivor said all along he and Mohanlall cried loudly as they prayed for help to come.
He said they were sure that their relatives would go out in search for them but were worried that it would be difficult for anyone to locate them.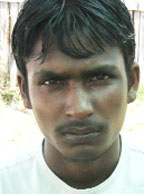 They were even flung off the boat several times with the rough waves and as they scrambled back onboard their bodies were badly bruised. Eventually the rope snapped early on Sunday morning.
The boat then turned over again and although it was filled with water, the two still managed to sit in it. Shiwpersaud said they had forced themselves to stay awake all along but by then they could no longer fight the sleep. He fell asleep first but shortly after was rudely awakened by a "big wave."
He said Mohanlall who appeared to be sleeping "float out de boat and me swim and pulled he in back and try fuh tie he with the rope." However, the fierce wave was pushing the boat away and he had to let go to "catch back the boat or else all two awe woulda drown."
He also looked on helplessly as Mohanlall – his childhood friend – went down in the water, still with his eyes closed. Totally devastated, he wrapped the rope around his hand as he focused on getting to shore alive.
By the time the rescue team found him around midday on Sunday he was unable to open his badly blistered eyes. The team took him to a trawler and he was given tea before being taken to shore and then to the New Amsterdam Hospital where he was admitted for two days.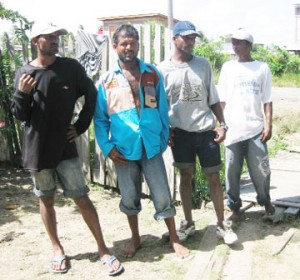 This newspaper was at Mohanlall's home around 2 pm yesterday when his brothers, Mahendra, Mohan and Chetram as well as Shiwpersaud's brother, Latchman arrived home after an unsuccessful search for their youngest sibling. They were part of a team that went out with four boats.
Mahendra said that they were at the shore on Saturday afternoon when all the other fishing boats came in and when he inquired about the two he was told that the water was very rough and that they should go out and search for them.
He said he telephoned his other brothers and together with other persons they formed a rescue team. They returned home empty-handed at around 10 pm and went out again at 3 am on Sunday.
Mohanlall's mother, Kamalwattie Bharrat kept crying inconsolably and she expressed regret that she woke her son up that morning to go to sea. She collapsed while this newspaper was there as she had not eaten since she learnt about the disaster and had to be rushed to the hospital.
All her other sons are married and living at their own homes and she said Mohanlall was "minding me and doing everything fuh me."
Shiwpersaud said he started going out to sea since he was 12-years-old and started working full-time four years ago. Last year he became the captain of the boat which belonged to Vijay Brijlall. He said Mohanlall only started working recently.
Around the Web