The body of a 41-year-old labourer was discovered with marks of violence under a bridge linking Mon Repos and Triumph yesterday morning.
Munilall Mangru, called Boyo, of Lot 134 Mon Repos was found dead shortly before 9 am  by a group of men who were fishing in the vicinity.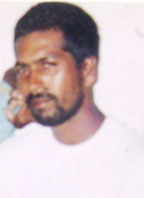 When this newspaper arrived at the scene the police were already present. Mangru was fully clothed and his bicycle was discovered a short distance away.
Relatives said that they last saw him on Sunday. Mangru, they said, worked as a labourer in the area and as far as they knew he was not a steady drinker and had no problems with anyone.
Mangru's face had dried mud and blood and there was a wound in the area of his nose and left cheek. The deceased's brother told this newspaper that he believes Mangru was beaten and dumped under the bridge.
The man had lived alone in the upper flat of his house since his wife died two years ago, relatives said. One of Mangru's sisters told this newspaper that he had "taken it hard" after his wife's death and had started to "smoke".
"After she died he de take it on and he de tell me that he grieving bad, bad but I see he last week Wednesday and he de looking good…he tell me that he stop with all he bad habits," the woman said.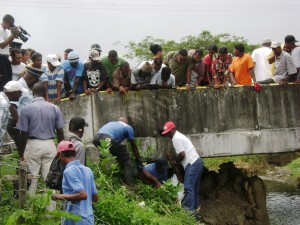 Sheila Sukhdeo was the last person to see her son alive. The distressed mother told this newspaper that she saw him on his bicycle at about 6 pm on Sunday as she was walking home. Two village boys, the woman recalled, came to her house at about 9 am yesterday and told her that they'd found a body out on the road that looked like her son.
"We think was a false alarm so I send he sister dem out there to see if is he fuh true," she said.
Savitrie Sukhoo, Mangru's tenant who lived in the bottom flat of his Lot 134 home, said that she saw her landlord sometime between 4.30 pm and 5 pm on Sunday.
"Sunday was de last time I see he," Sukhoo explained. "He wash he clothes and pick them up later and went and bathe…de last time I see he de walking into he apartment upstairs."
According to Sukhoo, her landlord usually went home around 7.30 pm most days after he'd taken "a few drinks with his friends". The man, she reported, never slept out and was always "in and out the yard" so they would see him several times a day.
"I still shocked…I can't believe he dead…I didn't think nothing of it when I na see he yesterday," Sukhoo said.
Mangru leaves to mourn an adult son, his mother and five siblings. Relatives stated yesterday that they were sure foul play was involved in the man's death and they will ensure that the matter is closely followed by the police.
"He was not the type of man to get drunk and sleep on the road or anywhere else…he always went home," Anita Sukhdeo, another of the man's sisters, told Stabroek News.
Around the Web