NEW YORK, (Reuters) – A Syrian native who U.S. prosecutors called one of the world's most prolific arms  dealers for decades was sentenced to 30 years in prison on  Wednesday for conspiring to sell weapons to Colombian rebels.
Monzer al-Kassar, 63, a longtime resident of Spain known as  the "Prince of Marbella" for his lifestyle in the glitzy  seaside town, was sentenced after being convicted in November  of agreeing to sell millions of dollars of weapons to the  Revolutionary Armed Forces of Colombia, or FARC.
U.S. District Judge Jed Rakoff also sentenced Felipe Moreno  Godoy, a 59-year-old Chilean, to 25 years in prison.  Prosecutors called him Kassar's right-hand man.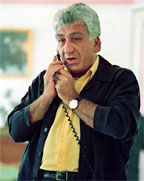 Kassar was convicted of agreeing to sell weapons including  surface-to-air missiles to the FARC, knowing they would be used  to protect a cocaine-trafficking business and attack U.S.  interests.
The charges included conspiring to kill American nationals  and officers, conspiring to acquire anti-aircraft missiles and  providing support to a terrorist organization.
The prosecution case was based largely on evidence gathered  by two undercover operatives who posed as FARC arms buyers and  videotaped negotiations in Spain with Kassar and Moreno. The  deal would have also included assault and sniper rifles and  rocket propelled grenade launchers for a profit of $1 million.
Kassar was extradited by Spain in June 2008 after Spain  received assurances from U.S. authorities he would face neither  the death penalty nor a life sentence without chance of  parole.
He was arrested at the Madrid airport in June 2007 after  his U.S. indictment said he knew the FARC kidnapped U.S.  citizens to dissuade American efforts to disrupt the cocaine  trade.
Kassar has been selling weapons since the 1970s to the  Palestinian Liberation Front and clients in Nicaragua, Bosnia,  Croatia, Iran, Iraq and Somalia, according to the U.S. embassy  in Madrid.
Around the Web