The 21st batch of Peace Corps volunteers arrived in Guyana on Tuesday to serve for two years.
According to a press release the 33 volunteers will be involved in an eight-week Pre-Service Training that will enable them to integrate easily into the Guyanese society and be responsible for their personal health and safety.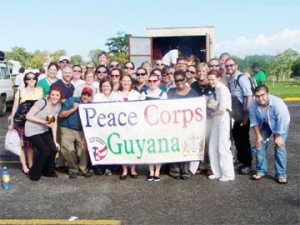 The session is also focused on providing them with opportunities and experience that will allow them to function effectively in the project areas of community health education and community education promotion and help them to use Peace Corps policies and procedures to enhance their work.
According to the release from 1966 to 1971 more than 160 persons served in Guyana as Peace Corps volunteers. In 1993 the late President Cheddi Jagan invited the Peace Corps to return to Guyana and the first group arrived in 1995. Since then more than 450 American volunteers have served Guyana.
The release said late US President John F Kennedy created the Peace Corps in March 1961 to provide human resource and technical assistance to developing countries that request such support.
Around the Web