The badly decomposed remains of the 17-year-old boy who was missing following a mishap with a 30-ft fishing boat around 9 am last Saturday was found at the Bush Lot, West Berbice foreshore yesterday.
Fishermen discovered the swollen body of Lakeram 'Baby boy' Mohanlall of Kilcoy Squatting Area around 2:30 pm yesterday and informed his relatives at Bush Lot. The lad went under around 6:30 am on Sunday.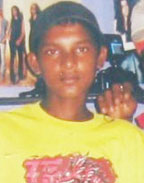 An uncle, Ashook Prasad told Stabroek News that he along with another relative went to view the body before informing the boy's mother, Kamlawattie Bharrat.
Mohanlall's brother, Mohan Amarnauth told this newspaper that they got the message around 3 pm and he, along with his two other brothers, Chetram and Mahendra and other relatives, hurried to the scene.
Though the body was totally disfigured, Mohan said they were able to identify it from a birthmark on the right leg and spots on the skin. He also said that they had left home at 5 am yesterday to continue the search for their youngest sibling and returned home empty-handed around midday.
Around the Web