A 28-year-old taxi driver was not required to plead to the charge of robbery under arms when he appeared before Acting Chief Magistrate Melissa Robertson yesterday at the Georgetown Magistrate's Court.
It is alleged that on February 23 at Georgetown, Timothy St. Hill of 333 Diamond Housing Scheme, East Bank Demerara being armed with a gun, robbed Mahase Harripaul of items valued $745,000, property of the said Mahase Harripaul.
Attorney-at-law Adrian Thompson who represented the defendant told the court that an identification parade was held and the virtual complainant (VC) "could not and did not identify his client as the perpetrator." The attorney said that instead it was a witness who had made the identification, and his client had an alibi since he was at home at the time of the incident and St. Hill's stepfather can attest to this.  On these grounds, Thompson stated that the case was a tenuous one and made an application for bail to be granted in a reasonable sum pending trial.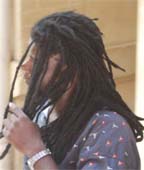 Police Prosecutor Denise Griffith objected to bail. Griffith told the court that, "indeed the defendant was picked out by a witness." She argued, however, that there is no issue if the VC cannot identify the defendant and a witness can. "As long as he is identified that's it," the prosecutor stressed. She further said over her years of experience in the profession there were cases where the VC could not tell who the perpetrator was because the attack may have been carried out from behind. Griffith also stated that fear may cause the VC not to positively identify the defendant and as a result if there is an eyewitness who is willing to come forward and make the identification, then "that is what we will work with." The prosecutor also said that it would have been "a totally different scenario if no one had identified the man as  he would have walked free."
St. Hill was subsequently remanded to prison and his matter was transferred to Court Five for today.
Around the Web