More than two years after he hit and killed a pedal cyclist on the Good Hope Public Road, Ameron Julab was yesterday found guilty and sentenced to two years in prison by Magistrate Sherdel Isaacs-Marcus.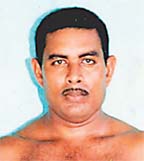 Julab, a 31-year-old, La Bonne Intention resident was charged with causing death by dangerous driving.  His licence had been suspended pending the outcome of the trial.
On April 23, 2007, Julab drove his motor car in a dangerous manner resulting in the death of Sattaur Seenauth.
At the time of the incident,  Seenauth was heading to his work place at Mon Repos on his bicycle. He was employed as a security guard.
As a result of the impact he was pitched several feet in the air before being dragged some distance. One of his legs was severed and he also sustained severe cuts about the body.
Four persons were being transported in the car by Julab; one sustained minor injuries while another was treated for head injuries at the Georgetown Hospital.
Julab was subsequently arrested by the police and a file sent to the DPP for advice.
The trial began sometime last year and some five witnesses testified.
When the magistrate gave her ruling yesterday, Julab appeared shocked.
He was represented by attorney-at-law Anil Nandlall. Assistant Superintendent of police Edmond Cooper prosecuted the matter.
In the latter part of 2007, the police force embarked on a massive traffic campaign fuelled by the increased number of horrific accidents that were occurring on the roadways mainly due to speeding. One such accident that year in Linden claimed the lives of ten persons while another on the East Coast at Liliendaal claimed the lives of six persons including a heavily pregnant woman.
The police had said that the publication of photographs of drivers whose licences have been suspended or taken away is to garner support in ensuring that the suspended drivers do not continue to drive.
Ravindra Persaud of Anna Regina, Essequibo Coast, became the first person to have his name and photograph published in the media after his licence was suspending pending the outcome of his death by dangerous driving case. He was charged on June 26 over an accident that took place on the Queenstown Public Road, Essequibo Coast.
On Wednesday, police released the photograph of Pooran Nebar stating that his licence was suspended after he was charged.
The Groenveldt, West Coast Demerara resident is accused of killing Ricky Ramnarine on October 25 last on the Zeelugt Public Road, East Bank Essequibo.
According to the police, the driver of the vehicle appeared to be under the influence of alcohol at the time of the accident.
Around the Web