-was bound and gagged, robbery suspected
An elderly man, his hands and feet bound, was found dead in his D'Urban Backlands home yesterday, in an apparent robbery/murder.
George Codogan, believed to be in his late 70's to early 80's, was discovered bound and gagged in the upper flat of  his Lot 180 D'Urban Backlands home at around 4pm. His brother, Glen Codogan, made the discovery.
His relatives told Stabroek News that George was an UK-based Guyanese who returned home just before Christmas last year. The man, according to them, had planned to sell his house and return to England where his wife and children are. "Look he came home to look after his things and he going back to England in a casket," an upset relative stated.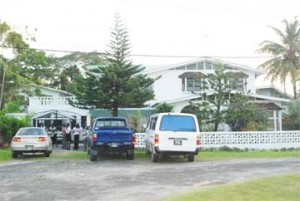 Relatives suspect that the perpetrator/s gained entry to the house through ground floor windows which were being repaired. A relative, who saw the man's body, reported that his hands were tied in front of him with a chequered shirt, while his feet were tied with a handkerchief. Further, the relative explained that George had some sort of material stuffed in his mouth but there were no marks of violence. They said that he appeared to have been suffocated. "He was lying on his side on the floor in his bedroom with his hands and foot tied up…he was only wearing his boxers and a vest," a relative said.
According to the relative, the man's house was clearly ransacked and several electronic items, including a laptop, were missing. The man's stereo was left abandoned near a window and clothing was scattered about his bedroom.
When Stabroek News arrived on the scene shortly after 5pm, the police were already present and carrying out their investigations.
Relatives explained that George had several contractors working on the front windows of his ground floor. Window panes were missing and two large sheets of plywood were used to block entry to the building. However, those sheets of plywood, a relative said, were not properly nailed to the surrounding wall to keep them in place.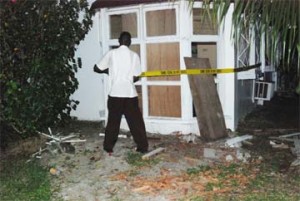 Glen had visited his brother early yesterday morning to take him some fruits. He shouted for George several times and after receiving no response he left the bag tied to the gate. After Glen made several attempts to contact George by telephone but received no response, he visited again and noticed that the plywood blocking one of the windows was out of place. With further probing, Glen realised he could gain entry to George's house and it was at this point, he told relatives, he knew something had happened to his brother. He immediately searched the house and soon found George dead in his upper floor bedroom. The police were immediately informed.
George was last seen in his yard by a neighbour shortly after 5pm on Wednesday and relatives said that they had spoken to the man by telephone that same evening. According to them, the attack had to have happened sometime between 6pm Wednesday and yesterday morning.
Approximately three hours after the discovery of George's body attendants from the Lyken's Funeral Parlour arrived to cart the body away. Police, up to press time, had not issued a statement on the matter.
Around the Web