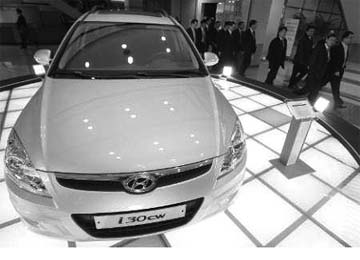 CHICAGO/NEW YORK, (Reuters) – When Hyundai Motor Co  launched a new U.S. incentive program allowing buyers who lost  their jobs to return just-purchased new cars, Rick Case was  blown away by the consumer response.
Case, who owns six Hyundai dealerships in Cleveland, Atlanta  and Fort Lauderdale, Florida, watched sales spike more than 60  percent in January, even doubling in some locations. While  rebates and new products helped, he remains convinced the  buyback offer was the big sales driver.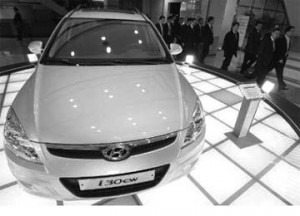 "I've been a car dealer for 45 years and I've never seen a  promotion like this," Case said. "It caused a buzz and everybody  was talking about it."
Far from downplaying recession worries, Hyundai and other  companies such as JetBlue Airways Corp and the National  Basketball Association's New Jersey Nets are tapping directly  into consumer concerns about the economy with special offers,  giveaways and marketing.
The U.S. Commerce Department said last month that the  country's economy shrank at its fastest pace in nearly 27 years  in the fourth quarter. Consumer spending, which accounts for  two-thirds of economic activity, fell 3.5 percent.
Meanwhile, spending on durable goods like cars and furniture  plunged 22.4 percent in the quarter, the steepest decline since  the first quarter of 1987, the agency said.
Already at 7.2 percent, the highest since 1992, the jobless  rate is set to soar to 9.1 percent, a level not seen since 1983,  before it stabilizes, according to a recent Reuters poll of  economists.
For companies that hit the right tone, the payoff can be  huge. Hyundai's U.S. vehicle sales in January rose 14 percent  even as the overall market slumped 37 percent.
"This is the toughest economic climate for consumers that  any of us in the advertising business have seen in our  lifetime," said Fran Kelly, chief executive of advertising  agency Arnold. "In tough times, companies have opportunities to  gain share, but they have to approach the market sensitively.
"What you want to do in tough times is mix value with  values," he added. "You don't just want to roll out the  'for-sale' sign, because it's difficult to roll that back."
PEACE OF MIND
In addition to Hyundai, companies that have tailored their  messages well include Subway, with its $5 foot-long sandwich ad  campaign, McDonald's Corp, Wal-Mart Stores Inc and H&R Block Inc, Kelly said.
JetBlue's offer — scheduled to end in June — is to refund  the cost of an airline ticket if you lose your job.
Fiona Morrisson, JetBlue's director of brand management and  advertising, said the market is "awash in low fares" and the  airline wanted to offer something that showed its humanity.
"How can we be cognizant of the situation that they're going  through, but also deliver up something that allows them to  continue on with their lives?" she said of consumers.
Hyundai launched its deal in early January and augmented it  this month with a feature where the South Korean automaker pays  three months of car payments to allow the unemployed owner time  to look for a new job before a decision must be made on whether  to return the vehicle. It has seen traffic at its corporate  website rise more than 25 percent over last year.
"If that's what's keeping them away from buying big-ticket  items," said Joel Ewanik, vice president of marketing for  Hyundai Motor America, referring to the recession, "we have to  give them some peace of mind to mitigate that.
"We have found that 75 percent of Americans believe that  they're going to hold off buying any kind of significant items  until the recession ends," he added. "Well, we can't wait for  that. We have to combat that. We've got cars to sell."
One consumer has taken advantage of the Hyundai program,  which runs through the end of the year, to return his car after  he unexpectedly lost his job, Ewanik said.
Offering such deals works best on big-ticket items, not  discretionary purchases, said Zain Raj, CEO of Euro RSCG  Discovery, a unit of French ad company Havas.
"It's an absolutely brilliant strategy," he said of  Hyundai's approach. "They are talking openly and honestly to  people. They are addressing the biggest single issue inhibiting  people's ability to put down money on a big purchase.
"I don't see a lot of great advertising that's insightfully  addressing the issue," Raj added. "The issue isn't 'Things are  bad so buy me, I'm cheaper.' The issue is, 'What can I do to  help you at this point in time?'"
The Nets basketball team offered 2,000 free tickets to  unemployed fans for four games in November and December, as well  as placement of resumes with its 120 corporate sponsors.
The NBA team is looking to offer a similar program again  this season, hoping to build goodwill with fans, especially as  they start spending more again.
"We weren't prepared for the onslaught," said Fred Mangione,  the Nets' senior vice president of ticket sales and marketing.  "We got much more press off it and feedback than we ever  thought, which tells you how scary the world really is right  now."
Around the Web