Two attorneys-at-law who were recommended by the Judicial Service Commission (JSC) were yesterday sworn in as High Court judges by President Bharrat Jagdeo.
Diana Insanally and Franklin Holder took the oath of office at a simple ceremony in the Credentials Room at the Office of the President.
A Government Informa-tion Agency (GINA) release said that the duo will complement the nine existing judges. The addition of the new judges is expected to assist in reducing the backlog of cases in the High Court.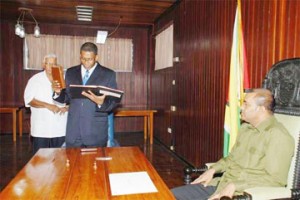 According to GINA, Justice Holder stated that he has been in legal practice for over 18 years and has worked with the Attorney General's Chambers.
"I felt deeply honoured and moved when I was invited to apply for the Office I have now been appointed to. I must say I recognize the challenges that the Office holds and appreciate and recognize the sacrifice and commitment required in the execution of that Office but it is my intention and desire to execute those functions and duties to the best of my abilities without fear or favour or ill will and dignity and fairness", Holder was quoted as saying.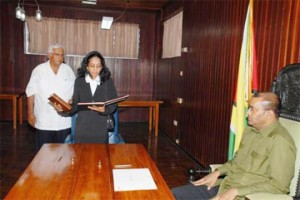 Justice Insanally stated that she has been in the legal profession for the past 19 years and graduated with an LLB in 1987.
She has also worked at the Attorney General's Chambers and the Chambers of the Director of Public Prosecutions (DPP) and has been in private practice for the past eight years, GINA said.
Around the Web