A suspect who was arrested in connection with the Smyth-field, New Amsterdam double murder said he was treated "worse than Guyana's most notorious criminal" and as though he was already found guilty of the crime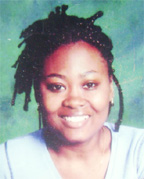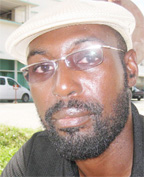 The suspect, Tyrone Talbot, 38, an early-retired sergeant from the US Army maintained his innocence of the crime during an interview with Stabroek News.
He said that both the police and a section of the media tried to blame him for the double murder because he was charged with the October 2004 killing of Chevonne Talbot, whom he had dated for one year and was married to for six years.
He was arrested on February 15 last at the home of his adopted mother in connection with the murders of Nekescia Rouse, 25, and Alexis 'Keisha' George, 18.  The women were discovered dead between 6.30 and 7 am on February 15 with stab wounds to their necks and other parts of their bodies.
George's body was discovered first in a crouched position under a tree, braced on an old stove in a neighbour's yard obliquely opposite. A few minutes later the body of Rouse, who was said to be Talbot's ex-girlfriend was found in the kitchen in a pool of blood.
Talbot said the Kaieteur News reported that he was acquitted of his wife's murder owing to insufficient evidence. However, he said, he was in fact found innocent of the crime as it was established – through cameras at his workplace − that he was on duty at the time his wife was reportedly strangled.
A neighbour had also testified that Chevonne Talbot was seen taking out garbage after he had left for work. In addition, his "superiors" also attested to the fact that he was indeed at his desk that day.
Further, he said that claims in the Kaieteur News by his late wife's relatives that they were sure that he had murdered his wife and the two women in New Amsterdam because he was "a cold-blooded killer" were libellous. He said he intended to take legal action against the newspaper.
He said his former in-laws' claims were based on the fact that he and his wife were having marital problems, but alleged that it was because of her infidelity.
The couple had been married in July 1998 and after that Talbot spent a few months in Guyana before returning to Germany where he was based. He said she could not join him right away because he had to be sent away.
He said that in January 2001, one month after his wife joined him in Germany he found out she had been unfaithful through an email that was meant for her, and that a coworker − whom he had allowed to visit his home because he was going through a difficult time with his marriage – mistakenly sent to him.
He said he filed for separation in January 2002 but returned home because his mother and a close relative of his wife asked him to reconcile with her. In July of the same year he again filed for separation but went back because of the same reason.
However, he said when problems developed again in October 2002 he requested to live in the barracks and the permission was granted.
He said his wife "had a right remain at the house because of the way the law was set up; if there were issues at the house the soldier had to be removed…"
He left for Iraq in February 2003 and remained there until December 2003. He said his contract in Germany would have been up in October 2004 and he knew he would be returning to the US, so a few days before the murder he went back to the house to stay because he had to clear it out and ensure that it was not damaged before handing it back to the military.
He said he was charged with her murder and on May 1, 2007 he was freed of the charges. He said he returned to the army and retired with full honours in November 2008, because of injuries he suffered to his neck, lower back, shoulder and wrist.
Upon retirement, he received two army commendation medals. Prior to that he had also been awarded five army achievement medals, 20 commander coins for various achievements, the National Defense Service ribbon for being on duty during the September 11, 2001 incident, and a medal for the Iraqi Global War on Terrorism among others.
He defended himself against a report in the Kaieteur News attributed to Chevonne's sister, Shawnette Benjamin that he was found guilty of giving false statements. He said he never went to trial for that charge because he pleaded guilty to it. Because of that, he said he was demoted one rank lower in the army.
Talbot said the newspaper also emphasized that he was "well-trained" and while that was true he was also "trained to restrain" and therefore never once hit his wife.
"I would have never seen the light of day if I was abusive to her. They have serious laws against that and I would have lost my job. She used to call [his superior officers] and complain when we had issues. But she never had the cause to say that I had hit her…"
The father of three daughters from separate relationships said he was never in favour of any man hitting a woman and that the last thing he wanted to hear was "my daughters calling me in the middle of the night and telling me that their husbands or boyfriends had hit them."
Regarding the claims his in-laws made against him in the newspaper, Talbot said he was "sick and tired of them presenting the arguments how they wanted and not presenting the facts."
Further he said, "Even though they tarnished my name I am not angry with them; I would just pray for them because my biological and my adopted parents taught me not to engage in confrontations." He said all he wanted was to publish his side of the story.
Police treatment
Talbot who was here on holiday from the United States since December 27 was first placed in custody at the New Amsterdam Central Police Station before being detained at Albion and Whim stations.
He was he was originally placed on $500,000 station bail but that amount was later reduced to $100,000. He was also ordered to hand over his US passport to the police.
He said although he co-operated fully with the police throughout his incarceration he was surprised at the treatment meted out to him. He said he was placed in handcuffs in the cell until Thursday morning, adding that he was also denied personal hygiene. Because he is asthmatic, he said, he had to be treated at the hospital as soon as he was released.
He said the report in last week's Sunday Stabroek by his girlfriend Jade supported the fact that he was sick the night before the murder of Rouse and George.
He said he visited Jade at her relatives' home and took her to spend the night with him. He said he was awakened the following morning with the news that Rouse was murdered and was shocked.
The man who had broken up with Rouse because she had apparently been involved in other relationships said "she did not deserve to die like that – nobody deserves to die like that."
He said after he broke up with her he moved on with his life and became involved with Jade. He said the police went to his adopted mother on Thursday and told her he had sent for a change of clothing and she gave them. He said he never sent for the clothing but the police went for it because the US embassy was visiting him the same day.
He learnt that the police had sent samples of blood to test and are awaiting the results but he insisted that they did not take any samples from him.
He pointed out that when the police went to his home they picked up a pair of sandals in the yard with two drops of blood on it. He said that the blood was actually from a duck he and his stepfather killed the day before.
He also said that they saw a tinge of blood on the tip of his index finger and that the blood was actually from him "picking my nose." He said he was taken to the New Amsterdam Hospital and the doctor verified that there was a laceration in his nose.
He said that the two detectives who took him could not get the report because they "did not have ID. They took me to Fort Wellington Hospital around 3 o'clock and the doctor stuck a tissue in my nose and said there was no blood there."
Talbot, who is now a photographer in the US, said no proper examination was done at Fort Wellington Hospital and he questioned why they did not use an endoscope. They responded that he seemed to have medical knowledge and he said he does.
He pointed out that he "did not come to Guyana to do anything negative" and was in fact engaged in the sponsorship of a cricket tournament with the Rose Hall Town Youth and Sport Club.
He said his reasons for becoming involved in the sport was because he noticed that young people lacked moral and social values and that was his way of trying to help.
Talbot, who was certified in cosmetology before becoming a soldier, is the holder of a Bachelor's Degree in Public Administration and Political Science.
Around the Web