More than 100 liquor retailers have signed on to the ID Declaration in partnership with Demerara Distillers Limited (DDL) to bring an end to underage drinking.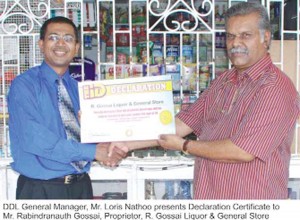 According to a press release, by signing the declaration liquor retailers agree to post the ID Certificate and posters in their businesses. The DDL sales team was trained to teach retailers about the campaign and the importance of not selling alcohol to minors.
Liquor retailers in Essequibo, West Coast Demerara, East Coast and East Bank Demerara have attached their signatures to the Declaration along with other retailers such as Bistro 176 and the New Court Yard who were among the first to sign, the release said. About 600 more retailers are expected to sign on to the campaign in the coming weeks.
According to the release, the campaign encourages retailers to comply with their liquor licence which forbids the sale of alcohol to minors. It also forbids minors being served alcohol. The licence also prohibits anyone under the age of 18 to sell or serve alcohol.
DDL encourages all of its customers to sign on to the campaign as a demonstration of their commitment to the protection and development of the country's youth.
Around the Web