Over 300 Albouystown households suspected to be stealing electricity from the Guyana Power and Light Company (GPL) have been targeted in a major loss reduction campaign, which started yesterday.
Managing Director of GPL, Bharrat Dindyal, in an invited comment yesterday afternoon told this newspaper that the company had deployed what he called a "Loss Reduction Unit" in the area to locate and disconnect over 300 illegal electrical connections.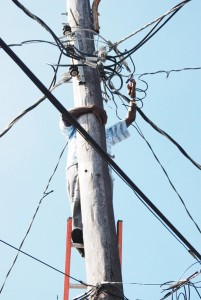 Stabroek News learnt from a source, that the unit deployed to Albouystown yesterday was also part of the company's drive to eliminate corruption among field workers. According to the source, technicians sent to eradicate illegal connections to GPL power lines often solicited monetary or other inducements from persons in return for not disconnecting them.
When this newspaper visited King Edward and James streets, Albouystown yesterday afternoon two GPL Loss Reduction crews were closing off their activities for the day. Residents told this newspaper that the crews started at different locations in the area and were very courteous while carrying out their duties.
Members of the Guyana Police Force accompanied the crews to ensure that activities were carried out in as safe a manner as possible. Several residents in the area, all of whom declined to identify themselves, said that GPL was right to flush out illegal connections.
"It got quite a few people in the area that does thief light and I think once you wrong then you got to get punishment," one resident stated.
Residents told this newspaper that they believed the stealing of electricity by some resulted in the majority paying for their crimes. The group reasoned that if there were a lot of households stealing electricity then the company would transfer that cost to paying customers so that they would not incur a loss.
"Take for instance, if we got ten people out of 30 stealing electricity then that mean the other 20 will have to pay for what they using plus what the other 10 stealing… I think is the right thing GPL doing," one woman reasoned.
However, others disagreed with GPL's decision to find and disconnect those with illegal connections on a large scale.
One resident, whose illegal connection was disconnected yesterday, told this newspaper that the poor state of the economy is forcing many Guyanese to do things "just to survive".
One man opined that the company could have gained a lot more if it had given the households with illegal connections an opportunity to repay over a period of time.
"I think if GPL gave these households a meter and then employ a payment scheme so that they could compensate for the electricity they stole over a period time then they would gain more and would get money for what was stolen from them," the man explained.
Meanwhile, a couple of pensioners, told this newspaper that they are not satisfied with GPL's methods in place to deal with the queries of customers.
Malcolm Reets, of King Edward Street told Stabroek News that he and his wife have been receiving electricity bills for various sums not exceeding $7,500 over a long period. However, their December-January bill, he explained, amounted to just over $12,000.
The pensioner explained that he and his wife made several visit to GPL's offices and technicians were sent to inspect their home. Reets said that the technicians looked over his wiring and then ordered his wife to open their fridge door.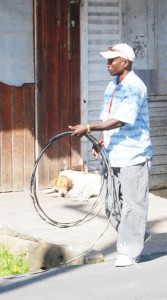 "They did some sort of test on the fridge and told us that it was the reason why our electricity bill amounted to over $12,000… but I don't believe them because we've been using the same fridge for years," Reets explained adding, "we don't believe in celebrating Christmas, we have a stabilizer and we have added no electrical appliances to our home so I don't know where the additional cost is coming from."
Reets said that although he and his spouse are pensioners they still worked part time to provide for their needs.
"We are old people struggling to keep ourselves fed and clothed and this company is only adding stress to our already full plates," Reets said. "I think GPL needs a little competition and then they will realize the value of their customers."
The GPL Loss Reduction Unit will frequent the Albouystown area until the more than 300 illegal connections are located and eradicated. The company has taken this action to deal with those stealing electricity.
Around the Web