Relatives of an employee, who lost both legs while on duty aboard a Noble House Seafoods Limited (NHS) trawler, are dissatisfied with the company's treatment of the matter.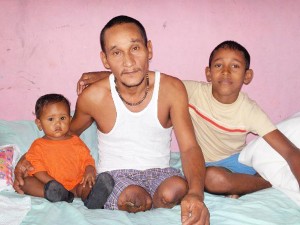 Russell Cornelius, 42, of North/West Grove, East Bank Demerara lost both his legs on January 18 while he was guiding the fishing net cable as he and his co-workers reeled in their catch that evening.
NHS has remained silent on the matter thus far. When contacted via telephone two Thursdays ago, Personnel Manager, Piercy Corlette, refused to comment.
"I am not speaking to the press," Corlette stated. "I can not answer any questions… My general manager is the person who will be able to answer questions… He is out of the country and should be back next week."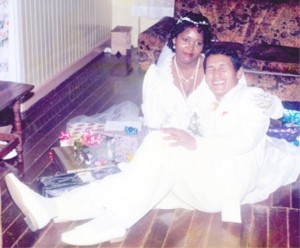 NHS had indicated to a Ministry of Labour official that they would offer Cornelius a compensation package last Friday. The ministry official had said that NHS would offer Cornelius employment until death, a settlement of a negotiable sum and would also take on the responsibility of applying for necessary National Insurance Scheme (NIS) benefits.
However, Stabroek News learnt that at the meeting last Friday NHS only spoke of offering Cornelius a security position which paid a salary of $65,000. Cornelius' in-laws and his wife represented him at the meeting and told this newspaper that they were still not satisfied with NHS's treatment of the matter.
According to the man's father-in-law, Basil Kedar, NHS's General Manager Lesley Ramalho was the one to make the job offer last Friday at the meeting mediated by the Labour Ministry.
"He told us that they had security cameras at the Eccles office but nobody was monitoring them so he would pay my son-in-law a salary of $65,000 to do that," Kedar explained on Sunday.
According to Kedar, Ramalho only spoke of the job offer but no promises were made and they were advised by the general manager to visit NHS's lawyer. Kedar said they visited the company's lawyer after the meeting only to be informed that the attorney knew nothing about the NHS/Cornelius matter.
"I don't know what game they are playing," Kedar stated. "There will be another meeting between us and Noble House but this time our lawyers will sort the matter out… we are meeting on different grounds next time."
NHS made no mention of a financial settlement or of sorting out the issues surrounding Cornelius' NIS benefits, Kedar reported. The man said he believed NHS agreed to the meeting last Friday "to put up a front of offering help to save face".
Kedar said NHS had also mentioned providing synthetic legs for Cornelius but, like the job offer, details were not given and the company representatives "effectively avoided questions".
Meanwhile, Cornelius said the company had not been so willing to offer help until the Ministry of Labour intervened. The man alleged that approximately one week after the accident several attempts were made to contact NHS. The company, he said, refused to have him enter the compound and had informed his relatives to contact a lawyer regarding the matter.
According to Cornelius, the company had denied being his employer. The injured man explained that NHS had leased World Friend 307, the vessel on which the incident occurred, to Roy Suhkanand who captains the boat as well.
The company, Cornelius reported, had said that Suhkanand was his employer and should be the person responsible for compensating him. Cornelius said that during the periods he had worked with NHS over the last five years the company has been responsible for paying him and ensuring his NIS dues were paid. However, the man said he has never received a pay slip from the company.
'I watched my legs
get cut off…'
It was approximately 6.30pm on January 18 when Cornelius and his colleagues were given orders by the captain to reel their nets in for the day. Cornelius recalled that they were about nine miles off the coast.
At the time, he said, he was wearing a t-shirt, a pair of loose-fitting gabardine pants held snug at the waist by a belt and with the trouser legs tucked into his long boots. As Cornelius was guiding the cable, the shaft attached to the hand-operated mechanical winch snagged the right leg of his pants.
As soon as the material was caught, Cornelius said, the device began reeling him and the cable in with terrifying speed. He tried to use his left leg as brace to get out of the device's grip and "ended up losing that one" as well.
"I watched my legs get cut off within seconds and I feel every second of that pain… I was aware of the entire thing," Cornelius said. "I feel it. I see it. And the next thing I know, I de falling backwards."
The knowledge that he was nine miles out in the Atlantic Ocean, with no trained medical personnel on board the World Friend 307 fuelled his fear, Cornelius said.
"I scream for help but I de done know that nobody there could do anything and plus their reaction was slow because everybody panicked at first," Cornelius explained. "After they rush to me I had to tell them to put me on a mattress on the deck and dump ice over my lower body to stop the bleeding."
His colleagues, Cornelius recounted, immediately radioed the Coast Guard. He was transported to port and taken by an ambulance to the Georgetown Public Hospital, where he received emergency treatment. Cornelius was admitted a patient and remained in the hospital for about eleven days. During the time he spent in the hospital, Cornelius said, no one from NHS visited him nor made any effort to contact his family.
"I felt like an old shirt, you know, and plus I studying my children," the former seaman said his steady gaze wavering for the first time. "Is like when some people get a new shirt they does just dump de old one in a corner and forget about it there.
"At first it was strange, you know," Cornelius continued explaining. "I would feel like my toe scratching but then when I reach down there was nothing…is like my body didn't accept that I ain't had legs no more."
Cornelius told this newspaper that after NHS's initial refusal to acknowledge him he was given a sum of money by a group of fishermen. The man said he was touched by their gesture and will remain grateful to them for their help.
The Georgetown Rotary Club and a West Bank Demerara Dominoes Club also each donated a wheelchair to Cornelius.
Safety
Cornelius alleged that the shaft which snagged his pants was rusted and might have had jagged edges owing to lack of maintenance. The man stated that he does not believe NHS provides a safe working environment for employees.
During the time he worked aboard the World Friend 307, Cornelius reported, the equipment were never replaced and maintained at "reasonable regular intervals". Further, he said, employees were not provided with safety gear.
"They never provide us with nothing…no gloves or boots or anything like that. In fact I had to buy my own boots to work with," Cornelius said.
Cornelius explained too that during his attachment to NHS there were no training sessions to equip employees with the knowledge needed to deal with possible emergencies at sea.
"As far as I know none among us the day I lost my legs were trained in first aid…they didn't seem to know what to do… is only now I realize the importance of being trained to deal with emergencies… Look what happened to me," the former seaman said.
Stabroek News also learnt from a Labour Ministry official that NHS failed to report the incident to the Occupational Safety and Health Board and in so doing violated the laws of Guyana.
NHS, the official said, gave no regard to Section 69 (1) (b) of the Labour Act which states: "Where any incident arising out of and in the course of the employment of any worker occurs and – (b) disables such worker, for more than one day, from earning full wages at the work at which he was employed at the time of such accident, written notice of the accident in the Form and accompanied by the particulars set out in the First Schedule, shall forthwith…, be sent by the employer to the Authority and the committee…"
Cornelius admitted that he is worried about his family's welfare and hopes NHS will accept its responsibility "fully" this Friday. However, Cornelius said he also worries that "employees who don't know their rights will blindly let employers jeopardize their safety".
Around the Web