Dianne Browne, the 26-year-old woman who was brutally stabbed by the father of her child on February 18, was transferred to the Female Open Ward on Sunday.
After spending over one week in the High Dependency Unit (HDU) at the Georgetown Public Hospital Corporation (GPHC) the woman has regained some of her strength and was transferred to Ward C2 from which she should be discharged shortly.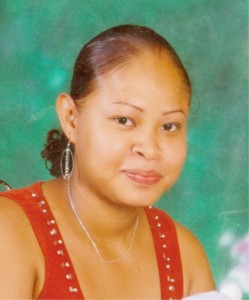 Browne had been admitted to Ward C2 at GPHC but was later transferred to the HDU as her condition steadily worsened.
However, after many days of pain the woman was glad to be in the Open Ward again as it is an indication that she has survived.
It was a bloody scene at Browne's Lot 40 Joseph Pollydore Street, Lodge, home that Wednesday. Julius Chung, the woman's 44-year-old ex-lover, forced his way into Browne's home and stabbed her several times before allegedly turning the knife on himself.
Chung had bled to death on a mattress in one of the rooms around 11:30 am.  It was in that same room he launched the knife attack on the mother of his 13-month-old son, who valiantly fought for her life, escaped and sought help from her landlord who lives above their apartment.
The woman had explained to this newspaper that she had ended her relationship with Chung but the man refused to accept it. Chung, she had said, threatened to kill her and her entire family several times.
However, Commissioner of Police Henry Greene had stated the day after the incident that police did not believe Chung killed himself. He had said that the police believed there may have been a fight between the two during which the man was mortally wounded.
Speaking to reporters on February 19 Greene had said that the police were still trying to piece together the evidence but what had been collected up to that point, revealed that the man did not inflict the fatal injury on himself.
He had further stated that police found two knives at the scene of the incident.
Around the Web