The Rotary Club of Stabroek on Wednesday honoured the three winners in its National Peace Poster Competition it hosted to celebrate World Understanding Month.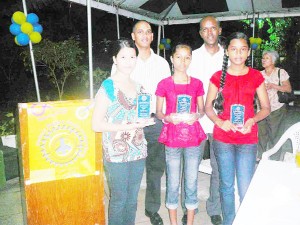 In a press release, the club said Serena Ming of Blygezight won the first place prize of $50,000, a plaque and book awards. Divya Lall of Henrietta, Essequibo Coast copped the second place prize of $30,000 while Zimeena Rasheed of Queenstown, Essequibo Coast received $20,000 for her third place. Lall and Rasheed also received plaques and book awards. All other participants will be honoured with a certificate of participation, the release said.
According to the release, the competition promoted Rotary's Fourth Avenue of Service – a continued quest for goodwill, peace and understanding among people of the world. Posters were evaluated by a panel of judges comprising George Simon, Philbert Gajadhar and Akima McPherson from the University of Guyana. Entries were judged for creativity, originality, artistic merit, expression of the competition's theme, explanation of artwork and presentation.
Entries were received from almost all the regions. This indicates that young people have strong ideas about what peace means to them and the Club "is proud to have provided an opportunity for our nation's children to document visually their concerns and priorities concerning peace and goodwill."
The winning entry will be replicated and disseminated to youth groups, schools and youth-focused organisations countrywide to publicise peace and ideals. The club plans to make the initiative an annual one to promote positive messages of peace, human rights, justice, racism and intolerance in an effort to advance sustainable human development.
Around the Web