HAVANA, (Reuters) – Former Cuban leader Fidel  Castro said yesterday that two prominent politicians dismissed  from their jobs in a cabinet reshuffle had taken on an  "unworthy role" that gave hope to the country's enemies.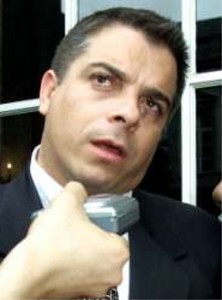 Castro, in a column published on the Internet, appeared to  be referring to former Foreign Minister Felipe Perez Roque and  cabinet chief Carlos Lage, who were considered the top members  of Cuba's younger generation of leaders before they were  removed on Monday.
Lage was replaced as cabinet chief by President Raul  Castro, but was believed to have kept his job as a vice  president of Cuba's Council of State.
"The honey of power, for which they had made no sacrifice,  awakened in them ambitions that drove them to an unworthy  role," Castro wrote, calling them only "the two mentioned by  the wire services as the most affected."
"The external enemy filled itself with expectations for  them," said Castro, who resigned as Cuban president last year  due to poor health.
Both men had close ties to Fidel Castro, Lage as his  long-time protege and Perez Roque as his former personal  secretary.
Lage was considered by many to be an economic reformer,  while Perez Roque recently had spoken hopefully about the  possibilities of improving relations with the United States  with new U.S. President Barack Obama now in office.
President Raul Castro, who took formally over from his  elder brother Fidel Castro a year ago, named eight new  ministers and cut out two ministries in the cabinet reshuffle,  and said it was move to streamline his government.
Around the Web