The Alliance For Change (AFC) has accused the government of failing to perform its watchdog role in Clico (Guyana) charging that the company's overseas investment should have been detected as high-risk prior to its sister company in the Bahamas collapsing.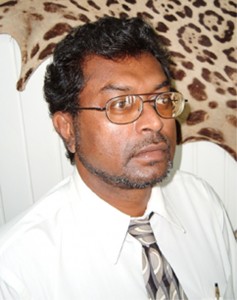 But the party has noted with deeper concern reports out of The Bahamas that there appears to be no evidence of Clico (Guyana) funds. Chairman, Khemraj Ramjattan said yesterday at a press briefing that the developing story in Nassau is worrying, emphasizing that the implications could be severe for the country.
Ramjattan questioned where the $6.9 B Clico said it invested in The Bahamas could be and pointed to the issue being one of a possible criminal nature.  He declared that the problems facing Clico locally is as a result of an oligarchy within the ruling party that controls several key companies in the country that are now affected by the Clico meltdown.
The AFC Chairman criticized the Finance Minister's role in the meltdown.  He also reiterated the party's call for Finance Minister Dr Ashni Singh and Commissioner of Insurance Maria van Beek to resign.
Ramjattan maintained that the architecture of the local financial sector is suspect and declared that the watchdogs put in place to guard [the sector] "became velvet-pawed pussycats".  He said that the President, Singh and the Commissioner of Insurance merely accepted the status reports from the Chief Executive Officer of Clico (Guyana).
According to him, the party is moving to set up a legal team to provide legal services towards finding tangible remedies, as far as possible, for affected policyholders.
Further, Ramjattan said that the AFC will seek to immediately have a meeting of the Economic Services Committee of Parliament convened to have an enquiry into the Clico financial problem for "purposes of not only settling the issues beyond doubt as to those who were responsible for it, but to make recommendations as to how a crisis like this could be avoided in the future".
Ramjattan added that the party will support with certain relevant amendments, and participate in the motion proposed by the Leader of the Opposition to have the matter debated in the National Assembly as a matter of urgent public importance.
He said too, that the party intends to get answers from the Finance Minister on a string of questions it will submit in Parliament on Clico (Guyana).
Clico (Guyana) has since been placed under judicial management following a High Court order, which has also appointed the Commissioner of Insurance as the technical person in charge of the company.
Around the Web