Relatives of a fisherman, who never returned home after he went to sea, are concerned about the man's fate after being told by the boat's captain that he "jump off the boat".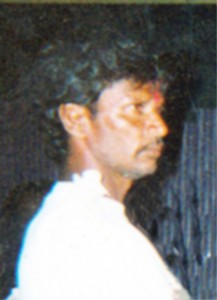 A worried Rajin Persaud visited Stabroek News yesterday and said that so far he has only been told by the boat's captain that his brother, Rajesh Persaud jumped off the boat in Suriname, but the captain would not say whether or not this was onshore. The matter has been reported to the police and the captain and several crewmembers were in police custody up to yesterday, Rajin said, but it was in relation to expenses and fish that were sold by the crew members.
The worried man said that he is concerned that something "fishy" might have happened since his brother would have called his parents, with whom he lived in Blairmont, West Bank Berbice, were he anywhere else. Rajin said that Rajesh has been working as a fisherman for about 35 years and an incident like this has never happened before.
He said that Rajesh left for the sea on February 8 and last week Tuesday, on February 24, the boat captain's wife called him and told him that his brother was at their home at Mon Repos, East Coast Demerara. However when he arrived there he was told that, Rajesh had gone to buy cigarettes. Rajin said that he looked for his brother in the village and also in Good Hope but did not locate him.
After being unable to find him, he called his parents in Berbice but was told that Rajesh was not there. He said that the following day, he returned to the captain's home and was told by his wife that his brother had not returned. "Then she turn and tell me is joke she mekking", Rajin related. He said that the woman stated that she had called her husband and he told her that Rajesh had "jump off the boat". The boat had docked at Number 66 village, when it normally docks in Georgetown, he said.
The worried man recounted that he requested the captain's number and called him to ask what happened. "He tell me, me brother jump off the boat in Suriname", said Rajin. He said that the captain did not reveal much more and he (Rajin) started to tell the man that he was responsible for the crew but he started to behave "rudely". Rajin said that he eventually made contact with the owner of the boat, who said that he was aware that Rajesh had "jumped off" the boat and he was going to the Corentyne to investigate.
Rajin said that he made a report at the Beterverwagting Police Station last Wednesday and while there called the boat owner and an inspector at the station spoke to him and the owner related that he had spoken to the crewmen and they told him that Rajesh had "jump off the boat".
The man said that on Friday, he called the captain again and the man told him that he was on a dam after the crewmen "pull cutlass and knife on he and he jump off the boat". Rajin said that upon hearing this, he called the owner of the vessel and the man related that about 3 pm on Thursday, the boat went missing. Rajin recounted that he called another brother, who lived at Skeldon and the captain was arrested but later released. On Saturday, however, he was arrested by Beterverwagting police.
Rajin emphasized that he had received the full support of the police but up to not it is now clear what really happened to his brother. He declared that if Rajesh was in Suriname or anywhere else he would have contacted relatives but up to yesterday no such contact was made.
Around the Web