In a dramatic twist, the fisherman, who jumped off a fishing vessel in Suriname, re-surfaced on Tuesday and hung himself in the Number 51 village police station-lock ups yesterday after making a court appearance.
Dead is Rajesh Persaud of Blairmont, Berbice. His worried brother, Rajin Persaud had visited this newspaper on Tuesday to express concern about the fate of his sibling after being given conflicting reports regarding his whereabouts by the captain and his wife. He had said that his brother left for sea on February 8.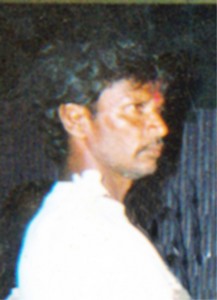 However, later Tuesday, Rajesh re-surfaced and was taken into custody by the police at Skeldon. Another brother, Boyo told this newspaper yesterday that he received a call at 3 pm Tuesday requesting that he take food for Rajesh at the police station. However, since he was not in the area, he asked some cousins to do so.
He said that yesterday, Rajesh was transferred to the Number 51 police station after it was learnt that there was an arrest warrant out for him. Boyo said that he did not know the nature of the charge and his brother appeared before the court and was apparently remanded because he was taken back to the lock-ups.
Late yesterday, he said his sister called and related that the police had said that Rajesh had hung himself in the lock-ups.
The grieving man declared that they want the authorities to look into the matter and they are calling for an immediate investigation. "Something got to be done", he asserted.
On Tuesday, Rajin had related to this newspaper that Rajesh left for the sea on February 8 and last week Tuesday, on February 24, the boat captain's wife called him and told him that his brother was at their home at Mon Repos, East Coast Demerara. However when he arrived there he was told that, Rajesh had gone to buy cigarettes. Rajin said that he looked for his brother in the village and also in Good Hope but did not locate him.
After being unable to find him, he called his parents in Berbice but was told that Rajesh was not there. He said that the following day, he returned to the captain's home and was told by his wife that his brother had not returned. "Then she turn and tell me is joke she mekking", Rajin related. He said that the woman stated that she had called her husband and he told her that Rajesh had "jump off the boat". The boat had docked at Number 66 village, when it normally docks in Georgetown, he had said.
The worried man had recounted that he requested the captain's number and called him to ask what happened. "He tell me, me brother jump off the boat in Suriname", said Rajin.
He said that the captain did not reveal much more and he (Rajin) started to tell the man that he was responsible for the crew but he started to behave "rudely". Rajin said that he eventually made contact with the owner of the boat, who said that he was aware that Rajesh had "jumped off" the boat and he was going to the Corentyne to investigate.
Rajin had told this newspaper that he made a report at the Beterverwagting Police Station last week Wednesday and while there called the boat owner and an inspector at the station spoke to him and the owner related that he had spoken to the crewmen and they told him that Rajesh had "jump off the boat".
Persaud is the second person to die in the lock-ups for this year. Last month, on February 10, Mahendra Seenarine had been found hanging in the La Grange lock-ups after being arrested and a post mortem examination had revealed that he died from asphyxiation due to hanging. Seenarine, 38, and a labourer of Good Land, Canal Number One, West Bank Demerara was discovered hanging in his cell at the lock-ups around 9:30 pm on that date, during a routine check, the police had said at the time.
Around the Web