The Government Technical Institute (GTI) recently renamed Barclay's Wing the GBTI Wing in honour of the bank's contribution to the renovations of that section and other support.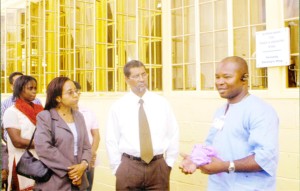 According to a press release Guyana Bank for Trade and Industry (GBTI) Director, Credit John Tracey and GTI Principal Onwurzirike P Chinedu unveiled a plaque at the said section to mark the occasion. Tracey said the bank is pleased to have played a role in the Institute's development.
In his remarks Chinedu said the Institute was grateful for the bank's support. He said not only has the building been rehabilitated but through other contributions GBTI has helped it to improve the level of tutoring it offers.
The release said in 2006 GBTI signed a Deed of Covenant with GTI for a period of three years during which $250,000 would be donated annually to the revitalization of the Institute. It said too GBTI is the first corporate entity to commit to the development of the GTI.
GBTI said Chairman of the Board Major General (ret'd) Norman Mc Lean, Manager, Human Resources and Administration Collette Lyken and other bank officials along with teachers from the Institute attended the ceremony.
Around the Web