President of the Guyana Teachers Union (GTU), Colwyn King said teachers with solid insurance plans in Clico (Guyana) are suffering the blow of being stripped of health insurance among other security, and are at risk of "not retrieving anything".
The Clico meltdown has impacted severely on teachers, King said at a press conference yesterday, pointing out that some members of GTU have had a long relationship with the local insurance company. He lamented that more than a decade of investments are in trouble, in some cases. The Government has said that all policyholders will be protected. However, in the interim those with health insurance at Clico will not be able to tap it and will have to find cash.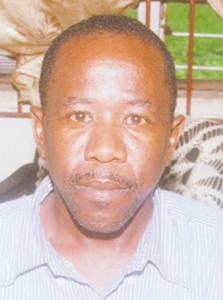 At the moment Clico medical cards mean nothing to teachers or their families, King said, adding that teachers have been advised that the insurance company is in no position to offer coverage now.
Of greater concern, he said, is the developing story that policyholders are now being cautioned to treat their investments as though they are lost. King told reporters that agents of the company had frankly informed teachers that they may never get any money back from Clico. According to him, the writing is now on the wall, and he issued a call to all teachers to halt premium payments to Clico.
Clico's Judicial Manager and Commissioner of Insurance, Maria van Beek was unavailable for comment when her office was contacted yesterday; there was no response to messages left at her office.
Currently, the Ministry of Education makes premium deductions for Clico from the salaries of teachers who are policyholders. This, King said, must be discontinued on the basis that Clico can no longer honour its obligations to teachers.
"I am calling on affected teachers to write to the Ministry of Education immediately and ask for the premium payments to be halted," King stated.
He said yesterday that the union representatives went into Clico earlier this week to make an assessment of the situation and were rocked by the frank opinions being ventilated. King said that they were unable to make contact with Clico's judicial manager.
Close to 7,000 teachers are affected by the Clico crisis, and King noted that many of them recently upgraded their policies and were paying more. In addition to health insurance, he said, teachers had life and fire insurance policies with the company.
King disclosed that he is also affected at a personal level having built a more than 13-year relationship with the insurance company.  He commented that the situation is troubling and that the union will continue to monitor it closely.
In the meantime, he said the GTU is looking at other alternative policy plans that are safe to assist teachers since many educators are still interested in having health coverage.
Last week, government moved to place Clico (Guyana) under judicial management, after the Bahamian Supreme Court ordered the liquidation of Clico (Bahamas), which held 53% of the assets of the Guyana affiliate at the end of 2007. The assets of Clico (Guyana) that escaped the Clico (Bahamas) collapse were locked down by the High Court last Thursday after government petitioned the court through van Beek.
President Jagdeo had said that the winding up of the local company was just one of the options available to the judicial manager and expressed hope that the assets could be recovered, saying that government is treating the assets as though they "are not yet lost."
Later, the President again issued a reassuring statement saying that policyholders are protected.
Around the Web