CIUDAD JUAREZ, Mexico, (Reuters) – One man looms  behind the worst violence in a drugs war on Mexico's U.S.  border that is shaking President Felipe Calderon's government  and worrying Washington.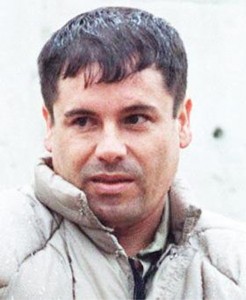 Joaquin Guzman, known as "Shorty" at just 5 feet tall (1.55  meters), is Mexico's most wanted man and set off a wave of  killings in the border city of Ciudad Juarez early last year  when he tried to muscle in on the territory of a local cartel.
A turf battle between Guzman's enforcers from the Sinaloa  cartel and local Ciudad Juarez drug runners has since killed  more than 2,000 people here and forced the government to deploy  7,500 troops and federal police to take control of the city.
Guzman, 51, has avoided capture several times since he  escaped from a high security jail in a laundry van in 2001.
Mexican anti-drug officials say he began waging war for  Ciudad Juarez when the local cartel tried to charge him taxes  for smuggling narcotics through the city into Texas.
"Guzman has been pouring hitmen and resources into the city  since last year to try to eliminate the Juarez cartel," said  Tony Payan, a drug-trade analyst at the University of Texas in  El Paso. "He has not been able to dislodge them," he added. The killings have turned Ciudad Juarez into the most  violent city in Mexico, where more than 6,000 people died in  drug warfare last year.
Guzman, who officials believe changes his cell phone every  day to avoid being tracked, is also fighting for control of the  lucrative smuggling route through Tijuana into California,  turning the city into one of Mexico's most bloody.
He set off a similar fight for smuggling routes into  eastern Texas in 2006 but has so far been driven back by the  rival Gulf cartel that has long controlled the area.
U.S. and Mexican authorities say Guzman has also been  weakened by a break-up of factions within his cartel because of  internal conflicts, and pressure by Mexico's military.
But he appears far from defeated.
"He is the silent shadow across Mexico. He is everywhere,"  said a senior Mexican military official in Ciudad Juarez who  declined to be named.
Guzman is unlikely to be in Ciudad Juarez himself and state  prosecutors say the hundreds of bodies that have come through  the city's morgue are mainly cartel foot soldiers and police.
Around the Web