President Bharrat Jagdeo says that the United States can play a critical role in helping to shape a post-Kyoto Protocol agreement on greenhouse gases as he laid out Guyana's position as it relates to climate change to a Washington audience yesterday.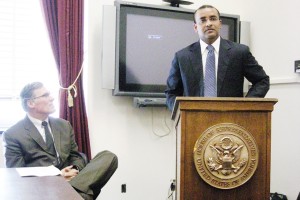 The President was at the time speaking at a Capitol Hill, Washington forum titled 'Forest, Finance, People and Climate Change: Inter-national Perspectives for U.S Legislators' which was organized by the World Wildlife Fund (WWF) and the Union of Concerned Scientists under the sponsorship of Congressman Jay Inslee of the U.S House of Representatives.
The Government Information Agency (GINA) reported that in noting that developed countries need to have strong political will and commitment to addressing the climate issue, Jagdeo pointed out the role developing countries can play as part of the solution, using forests as a cost effective abatement solution. He spoke of the work Guyana has been doing and outlined Guyana's position on avoided deforestation, referencing it to a study done.
Meantime, Inslee, in recognizing the importance of addressing tropical deforestation as a key aspect of mitigating climate change acknowledged the opportunity provided to develop a consensus approach between developed and developing countries, in light of the available scientific and political tools, GINA said.
It reported that the Congressman also alluded to the challenges of making such a system work and the assurances that would be required in terms of credibility. Congressman Inslee indicated that the US Government is moving ahead with legislation for climate change, and a Cap and Trade Bill is expected to be prepared by August, GINA said.
The Agency reported that other speakers at the briefing included Carter Roberts, Chief Executive Officer and President of the WWF; Per Pharo, Deputy Director, Norway's International Climate and Forest Initiative; and Kevin Knobloch, President, Union of Concerned Scientists. Members of Guyana's delegation who attended the forum included Adviser to the President and Chairman of the National Climate Committee Shyam Nokta and Guyana's Ambassador to the US Bayney Karran.
Around the Web