A United States resident, Rambeer Ghanny was the target in the Thursday night North Sophia robbery which left a fifteen-year-old dead, police confirmed yesterday.
Warren Scotland of Block 'R', North Sophia sustained a single gunshot wound to the left eye when two men armed with guns attacked a group of roadside gamblers.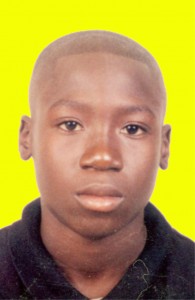 Police in a press release issued last evening said that they were investigating an armed robbery that occurred about 7:55 pm on Thursday. Investigations, the release said, revealed that Scotland "was an onlooker at a group of men who were gaming in front of a shop at North Sophia".
Two men, according to the police, armed with handguns approached the group and held up Ghanny who was involved in a game of cards. The armed men then took away a quantity of jewellery and a wristwatch that Ghanny was wearing at the time and subsequently escaped.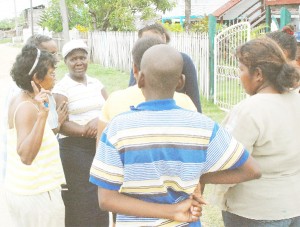 While leaving, the police said, one of the men discharged a round which struck Scotland to the left side of his face. Scotland, the police said, was rushed to the hospital where he was pronounced dead on arrival. The police have not yet arrested anyone.
Residents had told this newspaper on Thursday night that Scotland was an innocent bystander just looking on at the game. The gambling table was set up across the road from a shop that night and residents said that the shop owner would encourage the men to carry on their activities at the location. When contacted yesterday by Stabroek News the owner refused to comment.
When Stabroek News visited the area shortly after 11.30 am yesterday residents explained that the men would gamble at several different venues in the same street where the shooting occurred. Although, police have raided the area several times the men refuse to give up their habit.
Shaundell Williams, mother of the deceased teen, told this newspaper that after her son took the bullet he fell in front of a resident's gate and she believes that he bled to death there. Williams said yesterday that she'd sent her son to purchase a bag of tennis rolls that night and some time after he'd left she got a message that he'd been shot.
"I send he out to buy tennis roll that night and a lil bit after a boy run come telling me that my son get shoot," the grief-stricken mother said.
The distressed woman said she immediately rushed to the location only to see her son lying there covered in blood. Williams said that her son was alive when she arrived but after wasted minutes of trying to get residents with vehicles to help, he apparently bled to death.
"A police man de ask that shop owner to drop him to the hospital last night (Thursday)," the woman recalled. "But they drive in their vehicle in de yard and locked up and watched the scene from inside."
Scotland was the woman's only child. She explained that the boy's father died several years ago and she struggled to work and bring her son up alone. Williams said that she's vended from icicles to underwear to see that her son was fed, clothed and taken care of.
Scotland was a popular youth in the North Sophia area. The youth, residents said, was very quiet and helpful. One woman explained that the teen did odd jobs for people around the area to earn a little pocket money.
Game of 20/40
Ghanny's mother-in-law told Stabroek News yesterday afternoon the man had come to Guyana to attend the funeral of Terrence Plummer, another son-in-law, who died one week after being shot in the head during a Sherriff Street robbery on February 15.
According to the woman, Ghanny and her daughter have since left her North Sophia home where they were staying. Her son-in-law, she said, is still shocked and plans to take the first available flight to the US.
"This whole thing scare he bad bad," Ghanny's mother-in-law explained. "Look he come back for Terry (Plummer) funeral and nearly get he dead in the same way. He tell me last night (Thursday) that he ain't ever coming back here dead or no dead," the woman said.
The woman said that Ghanny and her son left her home Thursday afternoon to visit some friends. Recounting what she'd been told by Ghanny, the woman said that he ended up at the gambling table and joined in a game with the group of men.
"Dem boys don't play for nothing much is just a lil 20/40 (card game called rap/rummy where winners are paid $20 for rap and $40 for rummy) game they had going," the woman explained.
Ghanny's mother-in-law related that she'd learnt from her son-in-law it was "in the heat of the game the two armed men suddenly appeared" with guns pointed at him. Ghanny, the woman said, told relatives that he told the men to take everything he had.
"He tell me that they only take his two gold chain, a gold ring and a very expensive watch he was wearing," the woman stated.
Further, according to the woman her son-in-law had reported that one of the armed men fired one shot as they were about to escape. She said that her son-in-law had indicated that he believes that the men did not intend to kill anyone but rather to inject fear so that no one would pursue them as they escaped.
"Mark (Ghanny) tell me that de man aim at de fence area behind the gambling area when he fire off de shot.  He said that he think they only do that so that everybody would get scared," Ghanny's mother-in-law said.
The woman said she was told that Scotland happened to be standing in the vicinity where the shot was fired. According to her, the teen was "in the wrong place at the wrong time".
Meanwhile, Ghanny's brother-in-law who was sitting some distance from the gambling table that night said people had seen a black car driving through the area. The car, the man said, circled the location twice and it was the same car from which the robbers emerged.
"Is eye dem de eying he up," the man stated. "I de see de car but I na take it fuh nothing."
The man said that he'd seen the two armed men walking up to the gambling table on Thursday night but was fearful of shouting a warning to Ghanny. Ghanny's brother-in-law believes that had he shouted a warning the man would have probably opened fire.
Around the Web