As 17-year-old Leroy Anthony Daniels tried desperately to rid himself of the flames engulfing his body, the man who set him ablaze just watched on.
Daniels, of 758 South Turkeyen, succumbed last Monday to burns he sustained during the fatal incident, which took place two weeks ago at Linden.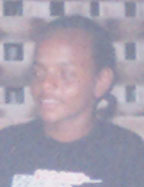 The incident occurred on February 22, while Daniels was part of a group clearing a plot of land at Phase 3, Wisroc, Wismar.
Police said earlier this week that a man who had been part of the clearing crew was arrested for throwing the container, which exploded.
However, according to Daniels' father, Desmond Hinds, the man who threw the gasoline was not a part of the four-man clearing group. He said the group was made up of himself, Daniels and two other family members.
Hinds explained that Daniels was crouched in a coal pit to set a heap of grass on fire when a man approached from behind and poured a container of gasoline over his head into the heap. "All I heard is a boom," Hinds related, adding "I turn around and see me son catch a fire." He said the young man was only wearing short pants at the time and he quickly took them off and rolled on the ground to put the flames out. All the while, the man stood with the container in hand surveying what had happened.
Hinds said the man lived at Linden and had been lurking in the vicinity. Hinds said he asked the man why he had thrown the gasoline and the man claimed that Daniels had asked him for it. "He said my son send him for the bottle," Hinds explained, "But up to the day before he succumbed, he [Daniels] said, 'No, me ain't send the boy for the bottle, believe me.'"
Daniels suffered severe burns and was a patient at the Mackenzie Hospital, where his condition worsened. According to Hinds, his son was supposed to be transferred to the Georgetown Hospital's burn care unit since last Saturday but he was not moved until Monday because of the Mashramani celebrations during the weekend.
Around the Web